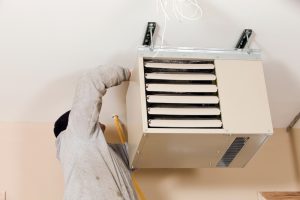 One of the things that we take great pride in at Advantage Airtech Commercial is the depth of the services we offer. Many standard commercial HVAC companies provide a suite of basic services that cover forced-air systems, rooftop units, commercial furnaces and boilers, and standard ventilation systems.
Some may also work with chillers. We go much farther, installing make-up air units, cooling towers, many types of radiant and hydronic heating systems, geothermal systems, and customized sheet metal fabrication. 
One service we offer you won't find at other HVAC contractors is work with commercial unit heaters. We're going to explain what these are and their benefits.
The Unit Heater
In the simplest description, a unit heater is a type of non-ducted space heater. It's a stand-alone heating system not directly connected to the rest of a facility's HVAC system that sends out heat into the area in which it is also housed.
Unit heaters can run off a range of energy sources: hot water, steam, oil, propane, and natural gas. Inside the unit is a heat exchanger that transfers the thermal energy from the fuel source (for example, hot combustion gas from gas burners) and a blower fan to push air through the heat exchanger and out of the unit. The blower fan is far more powerful than standard blowers found in other HVAC units. The heater is a complete packaged unit with all necessary components housed within a small metal container.
A unit heater can heat a large space, such as a warehouse or mechanical shop, with heating outputs running from 25,000 BTUs/hr to 400,000 BTUs/hr. They come in different efficiencies, with standard efficiency units working at a single capacity and high efficiency units having variable capacities and using condensing to recapture heat from exhaust gasses to maximize energy use.
The Uses of a Unit Heater
Because unit heaters are contained, standalone, and don't use ductwork, they can help solve heating concerns in larger areas without having to make major changes to the rest of the facility's HVAC system. You only need to arrange for our technicians to find the right position for the heater and then install it—a fast, straightforward process.
Unit heaters are excellent for eliminating cold spots within industrial facilities without enlarging or significantly revamping existing heating sources—they decentralize heating. They are also easy to maintain and repair for our technicians, the same as any standalone unit, and won't require disruption to other work. They are easy to replace and upgrade when necessary.
The ideal facilities that can benefit from using unit heaters include warehouses, garages, factories, workshops, and underground parking.
We offer full services for unit heaters in Toronto, ON and throughout the Greater Toronto Area. Our team will help you make the decisions about the size and type of unit heaters necessary, as well as the best positions to ensure they provide the complete heating coverage required for your facility.
Advantage Airtech Commercial Ltd. is the Double "A" Name with the Triple "A" Rating. Talk to us today to handle all your commercial and industrial heating needs in the Greater Toronto Area.