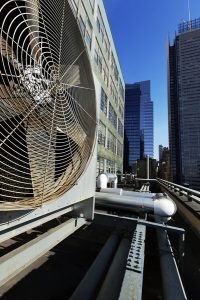 Many commercial and industrial facilities rely on air conditioning equipment around the year, not only in the summer. But during the hot and humid summer months in Toronto, almost every business requires some amount of air conditioning to create environments that allow for comfort, process, and the protection of equipment.
Emergencies can strike your facility's cooling equipment during the hotter months. Thankfully, you have Advantage Airtech to help you. We offer 24/7 emergency commercial air conditioning repair in Ajax, ON and throughout the Greater Toronto Area. We're going to look at several of the most common commercial AC problems that call for a fast response—and we're ready to deliver that response!
Total cooling failure
This is the disaster nobody wants to see happen. But when your cooling system stops completely at delivering any temperature changes, you need fixes, fast. After checking on the power and the facility's electrical panel, call us right away.
Refrigerant leaks
Most commercial cooling systems are refrigerant-based, such as the standard rooftop HVAC unit. Loss of refrigerant can occur as a system ages, but even systems that are over five years old can have them. Refrigerant leaks not only lower system efficiency and performance, they put the compressor at a high risk of burn-out, and that often means the whole air conditioning system must be replaced.
Compressor failure
Speaking of which: the compressor is the literal heart of any refrigerant-based system because it's responsible for causing the circulation of refrigerant between coils. When the compressor fails, the system will stop. Sometimes compressors can be replaced if under warranty.
Electrical problems
The most frequent type of air conditioning problems are electrical, which is a broad category. This can include loose connections, trouble in the control board, failing capacitors, and stuck relays. If the cooling system starts tripping breakers in your facility, call for repairs right away.
Failed blower motor
You may have a cooling system that is doing the job of cooling the air—but the air isn't going anywhere because the blower motor has failed. If you can't hear the blower motor turning on, call for technicians to investigate it right away.
Frozen evaporator coils
If ice forms over the evaporator coils in your air conditioner, that's not a sign the AC is just working harder. Ice should never form over any part of the air conditioner because it means something is restricting the system from absorbing enough heat from the air. Don't attempt to remove the ice yourself—this is absolutely a job for professionals only.
Remember: Prevention is the best strategy
Catching cooling troubles before they become major is the best way to avoid emergency situations. We know you're busy handling operations, so paying attention to your AC equipment isn't something you can always do. This is why we recommend you set up a customized maintenance program with us. We'll get to know your facility's equipment and provide routine check-ups and the tune-ups that will reduce most future repairs and give us a chance to address malfunctions early before they threaten operations.
Advantage Airtech Commercial Ltd. is the Double "A" Name with the Triple "A" Rating. Call us 24/7 when you have commercial AC repair emergencies.