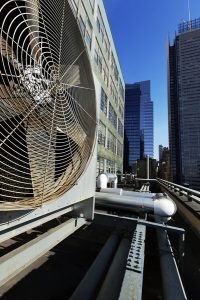 One of the basic units of commercial air conditioning and heating is the rooftop unit. Most facilities use a rooftop unit to provide comfortable conditions for employees, customers, and other people in the building, and/or protect equipment and process.
Many business owners aren't aware of the workings of their rooftop units. There's nothing wrong with that: it's the reason you want to hire commercial HVAC professionals to handle everything from air conditioning to indoor air quality services. But a bit of knowledge can be immensely helpful, especially when it comes to a key part of HVAC equipment that can provide benefits for indoor air quality and a lowering of energy costs.
We're going to take a look at the economizer, a component of rooftops unit that your business or facility may or may not have already.
What an Economizer Is and Why It's Beneficial
An economizer is a part of rooftop HVAC system that helps to provide indoor cooling without relying on running the compressor. It allows for the ventilation of outdoor air into the return air ducts of a facility if the outdoor air is cool enough to make a difference for the indoor air—and the humidity isn't too high or too low. The economizer brings in the outdoor air to take on the cooling responsibilities so the AC compressor can shut off for a stretch. Because the compressor in an HVAC unit draws on the most power, an economizer—as its name implies—helps to economize cooling power and lower utility bills. Lowering the amount of time the compressor runs will also help the system to enjoy a lengthier service life.
Another major benefit of the economizer is that it permits more fresh air into a commercial building, which helps improve indoor air quality. In fact, some economizers are equipped with carbon monoxide detectors that will open up to exhaust CO from a building. In general, an economizer can help to reduce issues with chemicals and VOCs that can often build up inside a facility.
Your current rooftop unit may not be equipped with an economizer, or it may have a simple type that isn't doing the best job it could for your facility. The standard "dry bulb" economizer uses a sensor to tell when there's a significant difference between indoor and outdoor temperatures, and then activates a damper to allow outdoor air into the return air ducts to help cool the indoor air. But this type of economizer doesn't measure humidity levels, and might allow a humidity spike inside the building. There are more advanced economizer models that can connect into a building's automation system that will create a better balance of temperature and humidity.
Contact Us for Rooftop Unit Service
If you're unsure about whether your commercial HVAC system uses an economizer, or whether the economizer needs repairs or an upgrade, get in touch with one of our team members.
When you choose us as your commercial HVAC provider in Toronto, ON or the GTA, you'll be working with experienced and licensed professionals who will forge a close relationship with you and your business. We go above and beyond customer expectations in order to build relationships that last.
Advantage Airtech Commercial Ltd.: Serving the Greater Toronto Area since 1987.