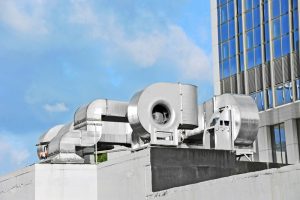 Summers in the Greater Toronto Area may not be as tough as the winters, but we still experience heat that can have a negative effect on commercial buildings and facilities. Managing cooler temperatures inside a facility during the hottest days of the summer is essential in a number of ways.
It affects the comfort of employees, customers, clients, and tenant. It can damage equipment and bring a halt to vital processes. You want to be sure your environmental controls are working correctly before the major heat of the summer arrives, and the best way to do that is to sign up for an HVAC maintenance program.
Air Conditioning Maintenance from Commercial Specialists
A few weeks ago we addressed the importance of maintenance programs from commercial HVAC specialists. We'd like to address in more detail how important it is to have proper cooling maintenance at this time of the year.
Ask yourself how commercial cooling is essential for your company from day to day:
If you run an industrial facility, you probably use chillers to cool equipment to prevent it from overheating.
Any modern office space uses a server room, and this room will rapidly overheat just from the equipment housed there alone. Summers make it worse.
In any area where you have employees or customers, maintaining comfort during spikes in outdoor heat is vital for keeping workers content and customers from going elsewhere.
You might notice that some of these cooling issues are true no matter what time of year it is—and that's why signing up for a maintenance program is so important. The professionals will see that your cooling needs around the year are taken care of. Each time the technicians arrive at your facility, all the important HVAC equipment will receive thorough inspections and tune-ups.
Dedicated Professionals vs. One-Time Maintenance Visits
This is something we cannot overemphasize: commercial maintenance must be managed throughout the year rather than as a task you call for as one-time check-up whenever you remember to have it done. Perhaps you can do that for your home, but you don't want to risk it with your commercial or industrial facility! You want to work with a commercial HVAC company that maintains close ties with you and offers regular service during the year both for your cooling and heating needs. You want professionals who understand your operations and how best to keep everything running smoothly in summer … as well as in winter, spring, and fall.
When you work with our team, you'll have a dedicated account manager who will see your facility receives the annual cooling system maintenance it needs. We don't believe in a one-size-fits-all approach to maintenance. After all, no two commercial or industrial enterprises are the same. With the help your account manager and our experienced commercial HVAC technicians, we'll prevent problems from occurring over summer that can slow down or even bring your operations to a halt.
Speak to one of our specialists today to learn more about how we can tailor a maintenance program in Toronto, ON to the special requirements of your commercial or industrial facility.
Advantage Airtech Commercial Ltd. serves the Greater Toronto Area. We aim to be the best commercial and industrial HVAC service provider in the area.