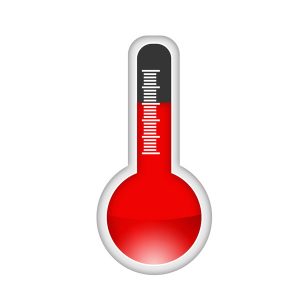 The server room for any business or facility is vital not only for continued day to day operations, but also to protect the future of the enterprise by protecting its data. Proper climate and humidity control in a server room is essential for these functions, and because each server room has unique needs, it requires a specialized and customized approach to provide the proper server room cooling.
Unfortunately, there are many mistakes that can occur with server room cooling when the job is left to people who lack the training and experience to understand the numerous factors that come into play. This is something we can't stress enough: no two server rooms are alike. If they are treated as if they are, it can end up in a data loss disaster.
Specific Server Room Cooling Issues
To give you an idea of what goes into creating a server room cooling system that does the best job possible, here are some issues that professionals have to account for:
Air balance for empty spaces: Cooling down a server room must account for the equipment inside it—but also for the equipment that isn't If there are empty cabinet spaces in the racks, it changes airflow around the equipment. Air balancing must account for these empty spaces to maintain the right air distribution of conditioned air.
Too much cooling: Yes, there is such a thing. Obviously, a cooling system for a server room shouldn't put the room into a deep freeze with icicles forming. But a few degrees below normal can begin to affect the efficiency of the equipment inside. Plus, excess cooling is a waste of money.
Humidity control: Balancing the humidity inside the server room is as crucial as controlling the temperature. Excess moisture can quickly destroy equipment. Improperly placed cooling can cause different units to switch into humidifying or dehumidifying modes and cancel each other out.
Miscalibrated humidity sensors: Related to the above humidity problem, a frequent server room issue is faulty humidity sensors. We recommend having regular recalibration of the temperature and humidity sensors to help avoid this problem. When you work with us, we'll make this part of your customized maintenance program.
Air leakage: This is an issue that less experienced technicians may miss when working to cool down a data center. Air leaks are a common problem that can lead to temperature imbalance unless accounted for or fixed.
So when it comes to finding a contractor for your server room cooling, turn to our team. We not only have 30 years of history working with commercial and industrial air conditioning throughout the Greater Toronto Area, we also work closely with all of our clients to provide HVAC solutions specific to them. We never take shortcuts: we'll design the server room cooling that is exactly what your facility requires.
So no matter what your needs for commercial and industrial air conditioning in Port Perry, ON may be, you can depend on our decades of experience and commitment to customized service.
Advantage Airtech Commercial Ltd. serves the Greater Toronto Area with quality commercial HVAC.