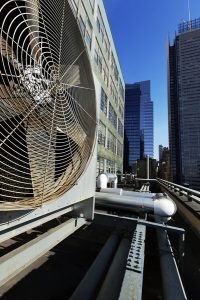 The "repair vs. replace?" question is one of the major ones in the HVAC industry, whether it's for the air conditioning system in a small house or the array of rooftop units supplying climate control to a larger commercial building. The question is often a pressing one for commercial and industrial HVAC systems because of the expense involved in replacement. Business owners and facility managers want to know the right decision to make when they have failing equipment: continue to have professionals repair them, or have professionals replace them?
We have more than three decades of history working with rooftop HVAC units in Toronto, ON, so we can help answer questions you may have about the future of your vital climate control systems. 
Service Life Expectancy of Rooftop Units
Let's start with a basic question: "How long can you expect a rooftop unit to last?" In most situations, rooftop HVAC units will last from 15 to 20 years. Because we live in an area that experiences harsh winters, rooftop units can sustain damage that will lower their service lives, so you might expect your facility's units to last on the lower end of the estimate. However, our excellent maintenance services help winterize HVAC equipment to give them the best chance of lasting those 20 years.
Factors to consider when equipment is faulty
If your HVAC units have started to decline in efficiency and raised your energy costs, become less reliable and effective, or are simply reaching the upper range of their service lives, you'll need to consider several factors when you arrange for repair service. Considering these factors can help you with the decision to either go ahead with the repairs or to have a replacement unit installed.
Repair cost vs. replacement cost:

Our technicians will give you an estimate on the repairs necessary to get a rooftop unit fixed. Compare this to the cost of a replacement (we can give you an accurate estimate on this as well). The general rule of thumb is that you shouldn't pay for a repair that's more than half the cost of a replacement. 
Efficiency decline:

Check on your energy bills over the past several years to see if the cost to run the HVAC system is rising faster than expected based on usage and energy prices. Then consider the higher energy efficiency of a replacement. This will give you an idea of how much you can start saving if you opt for a replacement. 
Outdated refrigerant:

An older HVAC unit may use a type of refrigerant that is no longer easily available because of its environmental impacts. Talk to our professionals about this, as they know all about refrigerant types, phase-outs, and when it's best to replace outdated equipment.
Cumulative repair costs:

How often has this equipment required repairs over the past several years? What is the cumulative cost of these repairs? You don't want to continue to invest in repair if the cost adds up to more than getting a replacement.
This is plenty to consider, but our expert commercial HVAC technicians will help you navigate them. We'll give you the recommendations that meet your needs—whether it's targeted repairs, retrofits, or a full replacement.
Advantage Airtech Commercial Ltd. is the Double "A" Name with the Triple "A" Rating. Call us for all your commercial and industrial HVAC needs in the Greater Toronto Area.