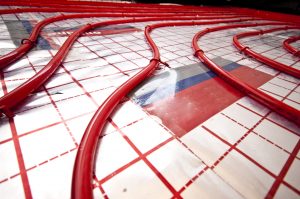 Your commercial facility may already use hydronic heating in some capacity, possibly because it is necessary for process. If you are currently doing remodeling, renovations, or new construction for your facility and are considering your options for commercial heating installation in Toronto, ON, there are several excellent reasons to think about using hydronic heating. 
We want you to keep in mind that installing any system like a hydronic heating system in a commercial building isn't an "either/or" situation. Commercial HVAC for facilities may involve multiple different types of heating and cooling equipment. This is one of the many reasons why it's best to rely on an experienced commercial and industrial HVAC contractor like Advantage Airtech Commercial Ltd. We customize our services, from new installations to the regular maintenance that keeps your business running day after day.
Hydronic Heating Advantages
No matter how you use a commercial hydronic heating system, you can expect several advantages, including:
Superior Energy Efficiency:

Transfer of heat through the air, as with standard furnaces and rooftop units, is a less efficient way to provide heat than to use water. There is far less energy loss from circulating hot water to terminal points in a facility, and you may see a significant change in your energy costs depending on the extent of your hydronic system.

More Available Space:

There are several ways a hydronic system can be configured for a facility. The popular in-floor heating not only creates one of the most even distributions of heating through a space, it also

allows

for more space, removing the terminal points required to radiate the heat. 

Improved Air Quality:

A major drawback of standard forced air systems that use ventilation ducts is that they can blow around dust and other debris that collects in the ductwork. The radiant heat that comes from a hydronic system doesn't carry any particles with it, and this can be hugely beneficial both for personnel and for equipment. 

Better Temperature Control:

Fine temperature is rarely an issue for residential heating, but it can be critical in a commercial environment. Hydronic heating doesn't have the issue of lingering heat and cold and hot spots that can come from forced air systems, and this allows for more precision heating. It's even better when used with in-floor radiant heating, where the heat naturally radiates upward from the floor and provides rapid warmth.

Quiet Operation:

With no need for enormous fans, hydronic heating is one of the quietest ways to provide temperature control in a facility.
Schedule Service With the Pros
No matter the type of space you have or the service your commercial facility offers, our team can find the ideal heating installation for your needs. If you are specifically interested in hydronic options, we can find out if this will work with your facility and what type will be most effective. Call us today to set up an appointment and work with one of our account managers.
Advantage Airtech Commercial Ltd. is the Double "A" Name with the Triple "A" Rating. Call us to schedule service in the Greater Toronto Area.