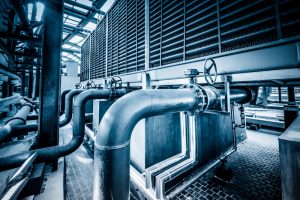 Your facility's commercial indoor air quality in Toronto, ON is as important as maintaining the proper indoor climate for process and comfort. It's easy to overlook IAQ when so much of your HVAC concerns are focused on temperature levels, which can vary wildly based not only on season but the type of facility you run. 
But high indoor air quality is critical for any building, and one example of an IAQ problem that is especially prevalent in commercial facilities is volatile organic compounds, or VOCs.
What Are Volatile Organic Compounds?
You might hear talk about VOCs but not be sure what they really are. The scientific definition is that volatile organic compounds are any chemical compounds that have a high vapor pressure and low water solubility. There are many sources for VOCs, and they are common in residential buildings, but their main source is the manufacturing of paints, refrigerants, pharmaceuticals, and industrial solvents. They are part of many petroleum fuels, paint thinners, cleaning agents, and hydraulic fluids, and are emitted by many thousands of products, including pesticides, office cleaning supplies, paints, lacquers, correction fluids, copiers and toner cartridges, aerosol sprays, adhesives, and markers.  
In other words: your facility likely produces a high number of VOCs on a daily basis, and buildings can have up to five times higher concentrations of VOCs than the outdoors.
Here are several of the more common VOCs:
Methylene chloride

Chloroform

Formaldehyde

Isopropyl alcohol

Trichloroethylene

Methyl tert-butyl ether (MTBE)
How VOCs Harm Indoor Air Quality
Volatile organic compounds are responsible for numerous health concerns of people who are exposed to them in high concentrations. The common negative effects of VOCs on people are headaches, nausea, fatigue, irritation of the eyes, nose, and throat, memory loss, and loss of coordination. More serious health complications include damage to the central nervous system, the liver, and the kidneys. Some VOCs are linked to cancer in animals and may cause cancer in humans. 
What Can Be Done About VOCs
When dealing with residential concerns about VOCs, homeowners are encouraged to reduce the number of sources for VOCs. Understandably, this is not an option for most facilities, where the products and processes that create VOCs are essential for operation. 
Reducing the danger of VOCs requires a combination of proper facility ventilation and IAQ products that can target the most harmful. It requires a whole-building approach, and this is why we recommend you work with top commercial HVAC professionals. Not only are we commercial IAQ and HVAC experts, we also work with industrial facilities, where the VOC concern is even greater. You can count on us to help you have the best possible ventilation and indoor air quality for your facility: our customized approach will ensure you have the exact service you need. Get in touch with us today to speak to an account manager and we'll set up an HVAC program that matches your business.
Advantage Airtech Commercial Ltd. is the Double "A" Name with the Triple "A" Rating serving the Greater Toronto Area. Schedule service or request an estimate with us today.