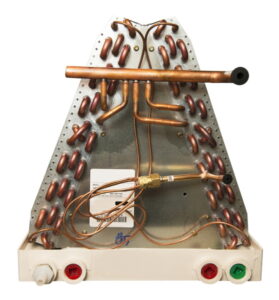 Your facility probably uses rooftop units as an important part of its cooling and heating around the year. These packaged heat pumps operate through the circulation of refrigerant, which is necessary in both heating and cooling mode. 
One of the major dangers you may face to your heating this winter is a rooftop unit that's leaking refrigerant. Leaks are a reason to call us for commercial heating repair in Ajax, ON. We'll explain below the danger of refrigerant leaks, how they can occur, and what we can do to correct the issues so your facility can get back to work.
Refrigerant Leaks Are a Serious Problem
The refrigerant in your rooftop units is in a closed loop and will not get "used up" over time. Only leaks can cause the refrigerant level to drop. Losing refrigerant isn't only a threat to the effectiveness of the rooftop unit, whether in heating or cooling mode; it's a threat to the operation of the unit. The unit will drain excess energy, raising bills, and eventually the compressor will burn out. When this happens, there's little choice but to replace the entire unit.
The Causes of Rooftop Unit Refrigerant Leaks
Rooftop units in Toronto must endure extreme weather conditions, so they're built tough. But this doesn't protect them from all forms of damage and other issues that can create refrigerant leaks.
Leaks most often occur in three places: the evaporator coil, the condenser coil, and the line set. There are several potential causes for leaks to start:
Age:

A rooftop unit that's more than 15 years old can develop corrosion along the coils or line set; it's one of the hazards of an aging system. This is one of the reasons regular professional maintenance is vital, since it allows HVAC professionals to detect these problems before leaks start. You'll know when it's time to replace the unit.

Poor soldering at joints:

Here's a reason never to hire amateurs for repairs or installations. The pressure of refrigerant in the lines is high enough that any weak connections due to bad repairs or installs will soon turn into leaks.

Damage:

Yes, even with the protection designed into rooftop units, they can suffer damage leading to leaks, particularly the line set. 
Solving the Problem
How refrigerant leaks are fixed depends on how extensive the leaking is. Our technicians can easily seal up a few small leaks. For more widespread leaking in the evaporator or condenser coils, we may recommend a full coil replacement.
A vital part of the repair process is what happens after the leaks are sealed: the lost refrigerant must be replaced. A rooftop unit must have a specific amount (charge) of refrigerant, and our technicians will make sure the right amount is put in. Amateurs often overcharge a system, which will lead to a system breakdown. 
We have over thirty years of experience working with rooftop units for all types of facilities. Trust us to get to the source of the problem and have it resolved quickly.
Advantage Airtech Commercial Ltd. is the Double "A" Name with the Triple "A" Rating. Call for service in the Greater Toronto Area.