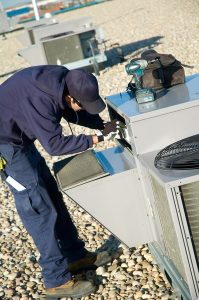 The climate of the Greater Toronto Area puts enormous strain on the HVAC system of any commercial facility. It's not an easy task to take care of and properly maintain the vital commercial equipment used to control the temperature and air quality inside a building that's necessary for process, comfort, and more.
Right now, with summer approaching, commercial air conditioning maintenance in Toronto, ON is of paramount importance. If you haven't yet scheduled AC maintenance for your facility, we recommend that you not only arrange for this service with our technicians, but that you sign up for a complete and comprehensive commercial maintenance program. This way you'll not only have your HVAC equipment ready for the summer, you'll have a customized program in place to maintain it throughout the year, every year, every season.
How This Investment Pays Off
Running a successful business requires knowing where to spend money. And few investments have a better long-term pay-off than customized HVAC maintenance.
We want to stress customized, because this is different from what many other commercial contractors offer for taking care of equipment. Sending a random technician to a facility twice a year with a checklist only offers the most superficial "maintenance." A fully customized program, such as the ones we provide at Advantage Airtech, build up a program that matches the specific workings and needs of your facility; it assigns dedicated technicians and managers to ensure a consistency of service.
And in return, you'll see the following benefits:
Money savings: The most basic service of routine maintenance is to prevent delays and loss of business in a facility because of equipment failure. Any breakdown is expensive, and maintenance helps reduce such catastrophes to the absolute minimum. You'll also see savings from the extended service life of your equipment, the smaller number of repairs, and the prevention of a severe drop in equipment efficiency due to wear and tear.
Protecting warranties: To keep the vital equipment of a facility under manufacturer's warranties requires the equipment receives routine professional service. Make sure you aren't trapped paying to repair or replace HVAC equipment because of a factory fault—keep those warranties in force with regular maintenance.
Benefit the environment: This is a "big picture" benefit, because it helps both your business and the world outside it. Equipment that is properly maintained will lower air pollution and other negative effects on the environment. If you want to make your facility eco-friendly, always have it professionally maintained.
Peace of mind: This is probably the best benefit any facility operator can enjoy. Simply knowing that the HVAC system in the building is under the best care and will rarely create trouble is valuable.
Get Started Today
Our HVAC maintenance programs are at the core of our business model. They are customized and comprehensive, and they are how we build relationships with our clients so they know we'll always have their backs. Call us today and we'll start the process of setting up a program with a dedicated account manager.
Advantage Airtech Commercial Ltd. is the Double "A" name with the Triple "A" service. Schedule an appointment to set up a commercial maintenance program.