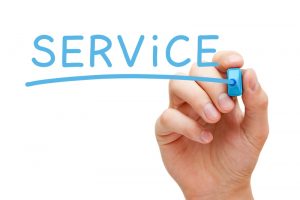 February is never too early when it comes to making plans for the middle of the year. It's a good strategy if you own and operate a commercial or industrial facility always to be ready for the warm shift in weather that will change the stresses placed on your staff, customers, equipment, and process. The first hot day could arrive in early spring—the readiness is all!
This is a long way of saying that right now in February is not too early to schedule your regular commercial HVAC inspection and maintenance work for summer. In fact, we strongly recommend having it done now. Your AC and cooling equipment not only be ready for the first warm days, but they will perform at peak condition and prevent money wasted on running inefficient equipment. Plus, you'll beat out the rush to have this work done later and take advantage of the easy availability of our technicians.
Vital Cooling System Maintenance
A business may only need to have a central air conditioning system to create comfort for employees, clients, and/or tenants in hot weather. Or it may be a large industrial facility that has chillers necessary to keep equipment cooled down. There are many types of AC and cooling systems at work in modern commercial buildings, each of which needs to function at its best and most energy efficient at all times, and with the lowest chance of suffering an emergency breakdown. Regular maintenance is designed to see this is the case.
From central ACs to rooftop units, server room cooling, and industrial chillers, our technicians know how to maintain it all. We're also specialists in the needs of skyscrapers.
Air Conditioning Maintenance That Makes a Difference
All your needs for commercial heating and air conditioning in Oshawa, ON can be taken care of by one experienced company. We provide air conditioning and cooling maintenance for commercial and industrial facilities that goes beyond what you'll find at most contractors in the Greater Toronto Area.
What sets us apart? In a word: customization. We have long experience working with many sizes and types of facilities in the GTO, and we know how much each business differs from the rest. Sending the next technician on the roster out to a company with s checklist of items doesn't cut it when it comes to maintenance! We provide maintenance service that aligns with all your specific HVAC needs, and we assign you a dedicated account manager. This means you won't have a stranger unfamiliar with your facility showing up. When you enroll in our commercial HVAC program, you'll receive the most thorough inspections, adjustments, and tune-ups from skilled technicians who strive to know your business as well as you do.
If you haven't already signed up for our HVAC program, get in touch with us today. You'll have an account manager and be ready for your first HVAC inspection and tune-up—all in time to beat the first warm day of spring.
Advantage Airtech Commercial Ltd. has served the Greater Toronto Area for more than 30 years.