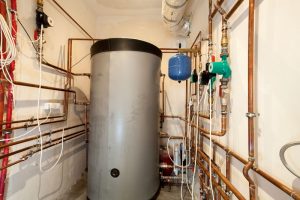 The water heater is a universal appliance found in buildings from modest one-bedroom homes to sprawling industrial facilities. If you operate an industrial business in the Greater Toronto Area, water heaters are probably an essential part of your day-to-day operations.
When you are opening a new facility or expanding your current one, you'll face many choices about the HVAC and plumbing system. One of those choices is what type of industrial water heater best serves the new facility's needs. The technology of industrial water heaters has advanced far since the days of the standard tank model. Now you have a number of alternatives.
High Efficiency Condensing Water Heaters
Many energy-efficient appliances today use condensing technology. What this means is the exhaust gas left over after natural gas combustion is put through a condensing process to release even more heat from. This reduces the amount of energy going to waste out the flue. Your business may already use a condensing furnace for heat. Why not use the same technology for an energy-saving water heater? Going with a condensing water heater means lower costs without a drop in performance.
Tankless Water Heaters
These water heater models are increasing in popularity. Instead of storing a water supply at a constant temperature, the tankless water heater applies heat to the water as it's needed. This increases energy efficiency (no standby water loss from a tank) and the system won't run out of hot water. Perhaps the best benefit for industrial facilities is that tankless water heaters take up much less space than tank models. These systems are flexible and work in a variety of facilities and buildings. We can find a great set of tankless water heaters to serve you.
Indirect Water Heaters
These water heaters combine the working of both tank and tankless systems, so a facility can receive water on-demand (heated as needed) when necessary, but still have hot water stored for immediate use. These water heaters can be used for radiant heating systems as well.
Storage Tank Water Heaters
Your business may be best suited for the tried-and-true storage tank water heater. If you're expanding your facility, it might be easier to put in a standard tank system to avoid having to make extensive changes to the rest of the hot water system.
It's vital that you work with experienced industrial HVAC experts when installing a new water heater. Count on them to make the correct choices about the type, capacity, and number of water heaters necessary for an effective system that won't needlessly waste energy.
To find out more about our services for industrial water heaters in Toronto, ON and throughout the Greater Toronto area, call our offices. If you aren't part of one of our regular maintenance programs, sign up for one and we'll assign a dedicated account manager to you. The manager will help set up a customized program for you along with the service you need for an industrial water heater installation.
Advantage Airtech Commercial Ltd. serves the industrial and commercial HVAC needs of the Greater Toronto Area. We have over 30 years of experience!