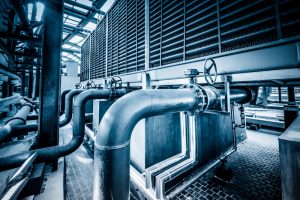 We hope we don't have to remind you of the importance of relying on trained and professional specialists when it comes to getting work done in an industrial facility. If you own and operate an industrial facility, you already rely on educated and skilled professionals in all the various parts of your operation.
So when it comes to hiring HVAC professionals to deal with repairs to equipment like industrial chillers or make-up air units, or to arrange for the installation of a complete new ventilation system, it's good business sense to look to industrial specialists.
The requirements of industrial HVAC and commercial HVAC are often substantially different. A company that only does commercial HVAC services may be focused on providing indoor comfort but not have expertise in the climate control necessary for process and to protect equipment. Industrial specialists understand the numerous factors that go into proper climate control and ventilation in industrial facilities.
Industrial HVAC Specialists: What to Expect from Them
Industrial HVAC professionals must have a wide range of skills and qualifications. The work on industrial heating and cooling equipment is demanding, exacting, and requires years of education and hands-on experience. Here's what you can expect from our team of industrial HVAC experts:
Licenses and certifications: From the start, you want technicians who have gone through the proper channels to be licensed for the work they're doing. Technicians must pass a number of exams to qualify. Our company is fully licensed and certified for industrial HVAC work in Ontario.
Training: Working on industrial HVAC equipment is a vocation that demands continual education. As new equipment and technology emerge, our technicians stay current with them. We keep up-to-date so your facility will also be up-to-date.
Attention to detail: Big, powerful equipment still runs on many small components, and achieving the proper balance of climate, cooling, heating, and ventilation in a facility is critical. Our technicians keep track of all the details of the work they perform to ensure the right job is done each time.
Time-management expertise: We know how valuable your time is, and our technicians are trained to balance tasks to ensure that work is done on the timetable you want—without any sacrifice in quality of service.
Emphasis on customer service: It's essential for us to build strong relationships with our customers. Communicating with them helps us see that their needs are met. When you work with us, you will be assigned an account manager who knows the specific requirements of your industrial facility and will tailor and customize services to match your exact needs. Ask our technicians any questions, and they'll give you honest, straightforward answers and explanations.
To arrange for services for industrial HVAC in Newmarket, ON or anywhere else in the Greater Toronto Area, schedule a meeting with us. We provide complete work with industrial HVAC, from new installations to setting up comprehensive, customized maintenance programs that give facility managers peace of mind. We have more than 30 years of history helping commercial and industrial facilities.
Advantage Airtech Commercial Ltd. serves the Greater Toronto Area with industrial and commercial HVAC: The Double "A" Name with Triple "A" Service!