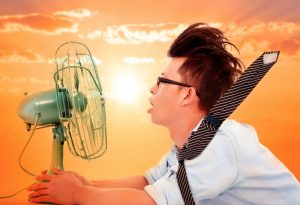 Summer is already here, and you're fretting over the energy bills for your commercial facility. You need more power than ever for the cooling system that keeps your building comfortable and/or which provides the proper environment for equipment and process. Rooftop ACs, server room cooling systems, chillers—they put in an immense amount of work through the summer.
But could they be doing even better? We're almost certain of it. Below is a list of various ways you can upgrade and improve your commercial cooling this summer. Feel free to call us for more details as well as other suggestions we have that are tailored to your commercial needs.
High-efficiency components
Because most commercial HVAC systems are modular, it's easy to have professionals replace and add new, higher-efficiency units. There are many excellent options on the market using the newest technology such as scroll compressors. There are also high-efficiency chiller units available if your facility makes use of chillers to cool large pieces of equipment.
Better building controls
Sometimes the best way to enjoy superior cooling and energy savings is to change the way you control your cooling system. Newer automated controls allow for better system integration and monitoring. Building automation is a continually advancing technology, and you may be surprised at what a change to the controls can mean for not only your cooling, but also heating and general ventilation.
Improve/replace the server room cooling
Are you using the same computers and data storage technology as you were five years ago? Probably not. The pace of advances in this field are relentless. But if your computer needs have increased, that means your needs for server and computer room cooling have also increased. If you haven't made changes and upgrades to the vital cooling system that prevents overheating, you might be looking at a serious data loss. Have HVAC professionals check over the server room and find out how to upgrade or replace the current cooling.
Enroll in a customized maintenance program
You already have a maintenance program to take care of your commercial cooling? That's great; it's essential for ensuring equipment works at its best. But is your current contractor only doing cursory checks and not working closely with you? We recommend you switch to a maintenance provider who gives you customized service and a program that's carefully itemized to meet the specific demands of your facility. You want to have a maintenance program where you receive a dedicated account supervisor, not just whoever was next on the work queue that day.
If you are looking for the best in commercial HVAC services in Markham, ON, or elsewhere in the Greater Toronto Area, Advantage Airtech is the contractor to call. Not only do we provide complete commercial (and industrial) cooling (and heating) services, we offer customized maintenance programs that deliver exactly what each of our customers need, and we install the finest in building automation system. Our technicians can help you discover the right upgrades for your facility's cooling requirements.
Upgrade your commercial cooling with the Triple-A Service with the Double-A name: Advantage Airtech Commercial Ltd.