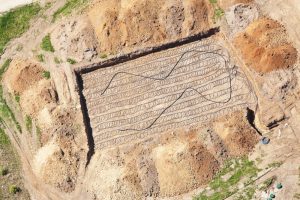 The standard way of providing climate control inside most commercial facilities is with the air-source heat pump. You're most likely familiar with these as the rooftop units found on commercial buildings. They work through refrigeration circulation to move heat either into or out of a facility space. The reason they're called "air-source" heat pumps is because the use the air both indoors and outdoors for heat transfer.
But what other option is there aside from using the air? The ground! The ground-source heat pump draws and deposits heat in the ground beneath the frost line, allowing it to either heat or cool the air inside a space. You know this type of HVAC system better as a geothermal system.
But what benefits are there to deciding on a geothermal heat pump installation in Toronto, ON, for your new facility, or as an upgrade to your current one? Here are a few to consider:
Energy Savings
Using geothermal energy is one of the best ways to conserve energy and reduce costs. The reason is that geothermal heat exchange—which is how a geothermal heat pump operates—is a more efficient process than using heat exchange with the air. This is because the temperature in the earth beneath the frost line remains relatively stable, unaffected by the temperatures above ground. This is especially beneficial during the cold Toronto winters, when air-source heat pumps struggle to remove sufficient heat from the chilly air—and geothermal heat pumps have access to bounteous amounts of heat underground.
Reliability
The stability of the temperature of the earth allows geothermal HVAC systems to operate at higher reliability than other types of systems. After all, a geothermal heat pump isn't at the mercy of swings in the weather, no matter if it's spring or summer.
Durability and Longevity
An investment in commercial geothermal is a long-term investment. The loops used for a geothermal heat pump can last more than 50 years, and require little service during their lifetime.
Space-Saving
Yes, a geothermal system takes up a large amount of space—but most of that is underground. Once the installers have the loops down in the property, the only part of the system you'll see are the indoor components. Your mechanical room only needs the pumping aspects of the heat pump, nothing else. You also won't have outdoor equipment taking up much-needed space, and this reduces noise pollution and potential damage from the weather and vandalism.
Easy Maintenance
No, you can't do maintenance for a geothermal system on your own. But professional maintenance for a geothermal system is almost hassle-free. When you sign up for a maintenance program with us, our dedicated technicians will be able to take care of your geothermal maintenance requirements with minimal fuss and interference with your facility's routines.
To find out more about geothermal HVAC systems and how they can be put to work for your commercial facility, speak to one of our team members today. We'll not only install the system, we'll assign you an account manager to see that your HVAC needs are met year after year.
Go with the Double-A name with the Triple-A service: Advantage Airtech Commercial Ltd. serves the Greater Toronto Area with the finest in commercial and industrial HVAC.