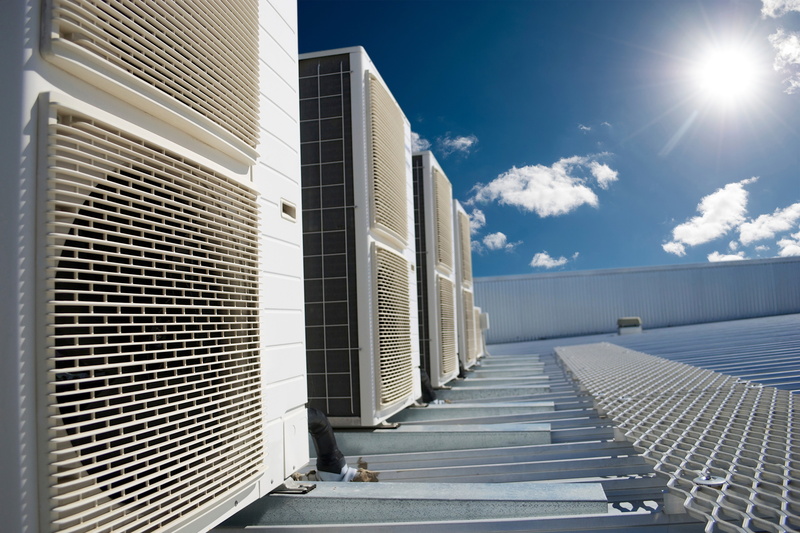 Unless your business is related to the HVAC industry, you probably don't have much more than a standard working knowledge of commercial heating and cooling systems. Nor do you need to have one—that's why you have professionals like us around to assist you. So if you've ever wondered why rooftop AC equipment is the standard for businesses, we've written the post to answer that question and give you some information about how our side of the HVAC industry works.
Up on the Rooftop
The reason that commercial and industrial air conditioning systems are usually up on the roof is because of history. Electro-mechanical air conditioning first came into use for commercial buildings (this was long before they were affordable options for homes) in the first half of the 20th century. At this time, businesses were concentrated in downtown areas of major cities because suburb regions hadn't yet developed. Buildings in crowded downtown areas clustered close together, and there just wasn't space to put in air conditioning equipment—which was also larger back then. The solution was just to put the ACs up on the roof!
So in many ways, rooftop ACs are there because it's a tradition. But that's not the only reason. If the roof wasn't a convenient place, the HVAC units would've migrated back down to the ground the moment there was space. It turns out having this equipment on the roof provides a number of other benefits:
Easy access for technicians: When it's time for regular maintenance, putting in units, or making repairs, HVAC technicians can stay out of the way of the operation of the facility. It's easy to get to the equipment and work on it without any disruptions.
Expandable: Commercial HVAC systems are designed modularly so that they can expand along with a company. The empty space on the roof offers ample room for adding on more units.
Quieter: Instead of having AC equipment housed inside the building where it can spread around noise, a rooftop AC sends almost no noise into a facility.
Avoids vandalism and damage: Vandalism can harm equipment down on the ground level—but not when the equipment's on the roof.
Aesthetics: It simply looks better overall for air conditioning equipment—not usually the prettiest of devices—to be out of people's sightlines and not cluttering the area around a facility.
No matter where your commercial air conditioning and heating system is located in your building, you can always depend on us for commercial HVAC in Toronto, ON. We install rooftop units, repair them, and maintain them. That last one is particularly important, since it's what keeps those rooftop units running reliably and without energy waste year after year. We offer maintenance programs that customize your regular service: we understand that there's no on-size-fits-all solution to HVAC maintenance, and when you sign up for one of our maintenance programs, you'll receive a dedicated account manager who'll ensure your equipment receives the best possible care.
Reach out to Advantage Airtech Commercial Ltd.—the Double-A name with the Triple-A service! Commercial and industrial HVAC service throughout the Greater Toronto Area.