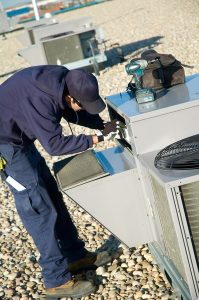 The seasons are starting to change, and no doubt you have plenty on your schedule to keep your commercial or industrial facility working away in the stretch leading to winter. This is an important time to remind you that commercial heating maintenance from professionals is mandatory in the fall if you want peace of mind about continued success through the rest of the year and into the next.
If you've lived in the Greater Toronto Area for at least one winter, you know how tough winters they can be. The average low during January is -3°C, which can be bad news for any business or facility, no matter what type, unless it has reliable heating systems. For the peace of mind that the heating systems that protect comfort and process inside your building, it's important to arrange for commercial heating maintenance in Ajax, ON each fall. The sooner you have a maintenance program in place with commercial HVAC specialists during the fall, the easier it will be to take care of.
Comprehensive and Customized Heating Maintenance
"Preventative maintenance" is a term that suffers a lot of abuse; depending on the contractor it can mean an extensive program specially suited to an individual business, or a single technician who drops by once a year and does some quick cleaning of the equipment. Obviously, you want a contractor who offers you the former—and that's exactly what we deliver. We emphasize that our commercial heating maintenance is comprehensive and customized, which you won't find everywhere.
Comprehensive
A heating system for a home is usually simple: a single furnace, boiler, or heat pump. A commercial or industrial facility is far more complex, since it often involves not only the handling of comfort for employees, customers, clients, etc. but also the protection of equipment and supplies and to benefit process. Heating maintenance must take into account so many more factors when it comes to commercial spaces, and our maintenance programs cover everything.
Customized
The "checklist" approach to heating maintenance is, unfortunately, a common one. A technician comes into a business and goes to the furnace, boiler, or other key heating systems, and runs down a checklist to look for repair issues or places that need cleaning and attention. This checklist is identical for each facility. Does that sound like it will work for your facility? Probably not. This is why when you work with us for heating maintenance, you'll have a dedicated account manager to help create a customized maintenance program for your heating systems. From hydronic heating to rooftop units, your account manager will see that you receive all the checks, inspections, tune-ups, and cleanings to leave your facility's heating in the best shape for the Toronto winter.
Arrange for Commercial Heating Maintenance Today
We have helped commercial and industrial businesses and facilities in Toronto since 1987, and we take pride in the skill of our technicians and comprehensive service. Speak to one of our account managers today to learn more about our commercial HVAC maintenance programs and how they go beyond what most commercial HVAC contractors in the area provide. Right now we are offering a FREE quote on a preventative maintenance program.
Advantage Airtech Commercial Ltd. provides commercial HVAC services throughout the Greater Toronto Area.