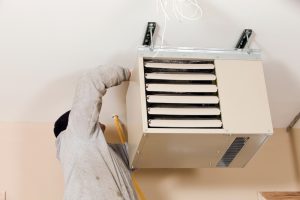 A standard commercial business space usually requires only sufficient heating for comfort for its employees, clientele, etc. during the winter months and sufficient warmth to protect equipment and allow for process. Standard ducted systems are the most common way to heat these spaces. Industrial facilities, however, are another story, and they often need a variety of heating systems to provide the right indoor climate control.
One of the most helpful of industrial heating systems is the unit heater, which can solve a number of the problems industrial spaces present.
The Complexity of Industrial Facility Heating
Many industrial facilities require heat around the year, not only during winter periods. Industrial spaces present a number of significant difficulties for proper heating: they often cover large areas and have high roofs, which allow heat to rapidly rise and disperse. Using standard forced-air systems to provide heat to these areas to allow for process is tricky, and using space-consuming ducts to provide an even delivery of warmth isn't the best option.
What the Unit Heater Can Do for the Industrial Facility
This is where unit heaters are invaluable. A unit heater is a types of space heater. People often think of a space heater as a tiny unit purchased from a commercial store and used to provide a bit of warmth in a cold room in a house. But space heaters don't have to be small and low-powered. Industrial unit heaters are capable of putting out 400,000 BTUs of heat or greater. Most are gas-fired with power ventilation to increase their energy efficiency. There are also steam-powered models and oil-powered. The proper placement of the right model of unit heater will eliminate cold spots in an industrial facility to provide even heating without the use of ducts.
Unit Heater Maintenance and Repair
One of the major benefits of unit heaters is they are basic to maintain and quick to repair. (At least by industrial HVAC professionals; don't let amateurs try this.) Because they are not ducted and are standalone units, they are simple for technicians to service while providing little disruption to the workspace. When necessary, they're also easy to be replaced with new units.
The Local Industrial Heating Professionals
We're the contractor to meet all your needs for industrial HVAC in Pickering, ON or elsewhere in the Greater Toronto Area. We won't just meet your expectations—we'll exceed them. When it comes to installing unit heaters for industrial facilities, we use the top of the line products from trusted manufactures like Reznor, Modine, and Lennox. You can count on us to ensure that your facility has the space heating necessary, no matter how difficult it is to heat. We will make sure installations are done to meet with local codes.
With our more than 30 years of experience with heating industrial and commercial buildings, we're experts at finding solutions for every individual situation and ensuring our clients are pleased with the results.
Advantage Airtech Commercial Ltd. is the Double-A Name with the Triple-A Service! Providing Commercial and Industrial HVAC to the Greater Toronto Area.