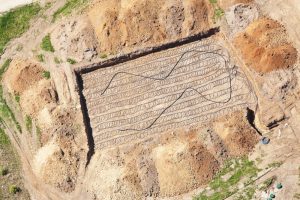 Geothermal energy is an increasingly popular source of renewable energy that uses the natural heat of the earth to provide heating and cooling for buildings.
Commercial geothermal systems in Toronto, ON are becoming more common as businesses look for ways to reduce their carbon footprint and their lower energy costs. 
Is using a geothermal system something you've considered for your commercial facility? If so, take a look below at some of the major benefits you might enjoy.
Lower Energy Costs
Commercial geothermal systems can significantly reduce energy costs. Traditional heating and cooling systems use fossil fuels and electricity, which can be expensive, especially during extreme temperatures.
Geothermal systems, on the other hand, use the constant temperature of the earth to provide heating and cooling—a far more cost-effective method. To give you an idea of the stability of underground temperatures, even during the chilliest Toronto winter the earth will maintain a temperature as high as 10°C.
Geothermal systems leverage the temperature gradient between the earth and the building to operate at an efficiency that standard air-source heat pumps cannot match. High efficiency, of course, means paying less for heating and cooling. Over the long lifetime of a geothermal HVAC system, a business can expect to pay significantly lower energy bills.
Improved Energy Efficiency
Along with the energy efficiency from using the stable thermal energy of the earth, commercial geothermal systems are designed with advanced controls and monitoring systems that can optimize the energy consumption of the building based on occupancy, temperature, and other factors. This fine-tuning of energy consumption ensures that the system operates at peak efficiency, reducing energy waste and lowering costs.
Reduced Carbon Footprint
Investing in geothermal energy is also an investment in benefitting the environment and helping to make a commercial facility "go green." Companies that use geothermal systems have lower carbon footprints.
And by using geothermal energy, a commercial facility can play a vital role in lowering the effect of climate change and help protect the environment. The high efficiency of geothermal systems also means a business can reduce its reliance on fossil fuels and lower its overall energy consumption. 
Longevity and Durability
Commercial geothermal systems are built to last, with an expected lifespan of up to 25 years for the heat pump components and more than 50 years for the underground loops.
Geothermal systems also require little maintenance beyond occasional check-ups and filter changes, and their underground pipes are durable and resistant to corrosion. Businesses can enjoy steady and cost-effective heating and cooling for many years to come, without the need for costly repairs or early replacements.
Versatility
Commercial geothermal systems can be used for a wide range of applications, including heating and cooling, hot water production, and even pool heating.
This flexibility allows businesses to meet all of their heating and cooling needs with a single, efficient system, reducing the complexity and costs associated with managing multiple systems.
If you're interested in learning more about the possibilities of using geothermal for your facility, speak to one of our experienced technicians.
Advantage Airtech Commercial Ltd. is the Double "A" Name with the Triple "A" Rating. Contact us today to learn more about using geothermal energy for your business.