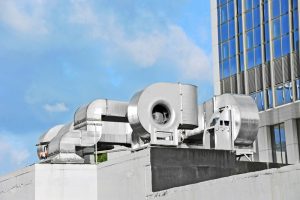 This is the right time of the year to prep your facility's HVAC equipment for the warmer months of the middle of the year.
If you still require heating equipment, it will need an inspection and service after its work during the winter.
Your cooling equipment, whether it works year-round (a chiller, server room cooling) or only during the hot months (air conditioning systems necessary for climate control), must have a thorough inspection and tune-up before the warm weather arrives. 
We can see that you have the finest commercial HVAC maintenance in Ajax, ON or elsewhere in the Greater Toronto Area. Our maintenance program is different from what many other contractors offer.
We don't send out whatever technician is next on the roster to go to your facility and simply go through a checklist. We set up a dedicated maintenance team to work with you, starting with an account manager.
The technicians who arrive at your business will already know your equipment and provide the exact services you need for the best HVAC performance. 
Maintenance Keeps Bills Under Control
Since you pay attention to the bills for your company, you probably already know that HVAC costs can account for more than half of all energy use in your facility.
Even a small dip in energy efficiency for the cooling equipment over the summer can add to a large amount of wasted energy and money.
With maintenance, your equipment won't suffer an annual decline in efficiency. In fact, you can expect to save 20% on energy costs over the lifespan of your commercial cooling equipment thanks to our customized maintenance.
Maintenance Maintains a Safe Work Environment
You may not think of cooling equipment as a potentially hazardous part of your business operations. However, any malfunctioning HVAC system can contribute to an unhealthy work environment due to poor air circulation and a drop in indoor air quality.
Bad ventilation can create negative air pressure, which both creates health concerns and lowers equipment efficiency. 
Maintenance Ensures the Best Equipment Performance
The strain on commercial cooling systems is higher than residential systems. Even missing one annual appointment (or more frequently, depending on your facility's needs) can mean letting wear and tear get hold on your HVAC equipment and affect its performance.
Loss of lubrication on motors, clogged air filters, worn down condensers—all of these will damage the effectiveness of the equipment you rely on for climate control. Maintenance will keep your equipment in peak condition.
Maintenance Extends Equipment Lifespan
The most expensive service you can have for your HVAC equipment is an early replacement. Unfortunately, HVAC systems like air conditioners and chillers often lose several years of efficient and effective performance because of neglect.
An example: a rooftop HVAC unit can last for around 15 years with regular maintenance. Without maintenance, the unit may need replacement after only 10 years.
Losing five years from an expensive installation is a steep price to pay! Maintenance is a small investment that rewards you with many more years of working equipment. 
Advantage Airtech Commercial Ltd. is the Double "A" Name with the Triple "A" Rating. Contact us today to set up a customized maintenance program for your commercial or industrial facility in the Greater Toronto Area.