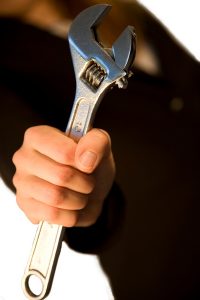 You may have heard the term retrofit regarding parts of commercial facilities, such as a "lighting retrofit" or "electrical system retrofit."
Is a retrofit the same as upgrading equipment or replacing older units with newer ones? And if it's different, what are the benefits of choosing a retrofit over other options?
We're worked on commercial cooling and heating in Pickering, ON and the Greater Toronto Area for more than thirty years, so we understand all the goes into making beneficial changes for commercial and industrial HVAC systems.
We'll explain what retrofitting means and the ways it can benefit your commercial operation. 
The Retrofit
Retrofit has different meanings in different contexts. For HVAC purposes, a retrofit is adding new components or technology to an already existing HVAC system rather than completely replacing the system.
The technology of heating and cooling is constantly advancing, and older equipment can rapidly become outdated.
A retrofit will bring current equipment up to modern standards, which may be vital to match changes made in a facility. 
One example of a retrofit that's common in HVAC is changing a refrigerant-based system that uses R-22 refrigerant, which is now phased-out, to one that uses R-410A.
For residential HVAC, it's easier to just replace an R-22 unit with a new one. For larger commercial equipment, a retrofit for the newer refrigerant is a cost-effective option.
Other options include adding variable-speed blowers and updating the controls with new automated systems.
The Retrofit Benefits
You always have the option of replacing HVAC equipment entirely, but you may wish to consider a retrofit for several reasons.
The biggest advantage of choosing a retrofit is cost. It's less expensive to replace and add components to a system than to purchase and install an entirely new system.
A retrofit can extend the lifespan of an HVAC system. The expected service life for most commercial heating and cooling systems is 15 years. A retrofit will let you get more years from the system without having to make drastic, expensive replacements.
Retrofit technology aims at improving the energy efficiency of systems, which means that you'll start saving money right away with the upgrade.
You may qualify for government incentives with retrofitting that will help pay for the cost.
Reasons to Consider a Replacement
Retrofits aren't the best choice in all situations, and you can rely on our technicians to help you make the best decision for your business when it comes to "retrofit vs. replacement." Replacements are more costly, but they can bring with them even larger energy efficiency improvements. They can also improve the air quality in your facility. Finally, no retrofit can keep a piece of equipment running forever, so there are cases where further retrofits simply aren't wise investments or the equipment is too old to work with the newest components.
Advantage Airtech Commercial Ltd. is the Double "A" Name with the Triple "A" Rating. Talk to our expert team today to learn how you can retrofit your HVAC equipment to bring your facility up to current standards.