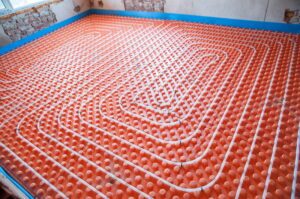 We work with all types of commercial heating in Toronto, ON, and this covers a wide spectrum of systems. The most common commercial heating systems are rooftop units, which are refrigerant-based and used forced air to send heat throughout a facility. Commercial furnaces also use forced air to provide heat. 
An alternative type of heating with many broad applications is radiant heating. In commercial HVAC, radiant heating embraces several types of systems that operate in different ways, so we have to be more specific when talking about how to achieve radiant heating inside a commercial space. In this post, we'll look at some of the ways we can install radiant heating for a facility—the right type of radiant heating to match its needs.
The Basics of Radiant Heating
We'll define radiant heating in the broadest sense first. Where forced-air heating distributes heat through convection, i.e. the movement of heat through air, radiant heat distributes heat through radiation, i.e. the movement of heat from one object to another. The simplest way to visualize this is a hot pavement on a sunny day. The pavement radiates heat that warms other objects it reaches without raising the temperature of the air. You can feel radiant heat coming from any hot object. 
Traditional Radiant Heating Systems
The most well-known type of commercial and residential central radiant heating system is the boiler. A boiler heats water then sends the water to terminal points, such as radiators and baseboard heaters. These points heat up and then send radiant heat waves into the space. Small commercial businesses often use this type of heating because of the advantages of higher energy efficiency, more even distribution of heat, quiet operation, and less dust and other particles blown around from ductwork.
In-Floor Radiant Heating
A popular modern option for radiant heating in commercial facilities is in-floor heating. A boiler runs heater water through a subfloor, which heats the floor and radiates heat upward through the space. This is one of the most efficient ways to provide heat to a large area. It also works much faster than forced-air heating and is helpful for spaces that don't want contaminants and allergens blown around through a standard HVAC system. We work with all types of configurations of in-floor heating for commercial and industrial use.
Radiant Tube Heating
This is a specific type of radiant heating for commercial spaces. These sealed combustion tubes consume only a small amount of gas to create a high-intensity radiant heat—much higher than standard (and more expensive) electrical resistance heating. Radiant tube heating is useful for commercial spaces with high ceilings, as the tube heaters can be installed on the ceiling and be able to still reach all the way to the floor. Trying to heat up such a large space with forced air is costly and slow because of how long it takes for heat to spread from the ceiling. Radiant tube heating is also useful for spaces that are often exposed to the outdoors, such as warehouses with large bay doors.
Our team is available to help you find the best heating solutions—radiant or otherwise—for your commercial facility. 
Advantage Airtech Commercial Ltd. is the Double "A" Name with the Triple "A" Rating. Call today to schedule service in the Greater Toronto Area.