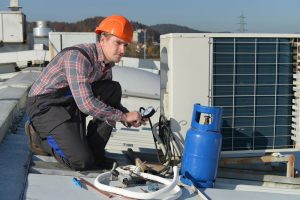 Although people connect the word "refrigerant" to devices that produce cooling, such as air conditioners and refrigeration equipment, refrigerant is often an essential part of the heating and cooling systems for commercial spaces. The standard rooftop units that most facilities use for climate control use refrigerant to both move into and out of the space. Under normal circumstances, refrigerant-based equipment will use the same charge of refrigerant through its service life—refrigerant circulates in a closed loop and does not dissipate through the heat exchange process.
Refrigerant can escape through leaks, however, and this is a common problem commercial facilities encounter, particularly with aging equipment. Corrosion will start to affect the copper refrigerant lines and allow the chemical blend to escape through even the smallest holes. Leaking refrigerant can lead to serious problems for your facility—some of which you may not anticipate.
The Indoor Air Quality Danger
We're bringing this up first because it doesn't receive as much attention as it should. Leaking refrigerant negatively affects equipment, but it can also harm your commercial indoor air quality in Toronto, ON. The chemicals in refrigerant are unhealthy to breathe, while also difficult to detect since refrigerant gas is tasteless and odorless. Even inhaling small amounts can create symptoms. The symptoms of refrigerant poisoning include dizziness, headaches, and irritation to the eyes, nose, and throat. If these symptoms begin to appear among employees in your facility, we recommend you call us immediately to detect if you have freon leaks.
Equipment Inefficiency
As refrigerant escapes from HVAC equipment, it will cause a drop in energy efficiency as the coils struggle to effectively release and absorb heat. When your energy bills start to make a steep rise and you can't detect why, we advise you call for professionals to investigate the older refrigerant equipment in the facility to find if there are leaks.
Equipment Failure
Catching leaks as early as possible is important because the life of your equipment is on the line. Refrigerant-based HVAC equipment is designed to run on a specific refrigerant charge. When this charge drops because of leaks, it alters the pressure in the equipment and puts it in danger of breaking down. One of the biggest concerns is compressor burn-out. When compressors fail, it usually means an expensive replacement. 
The Best Way to Avoid Refrigerant Leaks
If you want to prevent leaks in the first place, the most tried-and-true method is to have your HVAC equipment maintained on a strict program. This is an area where Advantage Airtech can provide you with assistance that goes beyond what most contractors offer. When you sign up for maintenance with our team, a dedicated account manager will work with you to develop a program that matches the needs of your facility. Regular testing for leaks is an important part of maintenance, and you'll have technicians assigned to your equipment who understand your facility's specific requirements. 
Advantage Airtech Commercial Ltd. is the Double "A" Name with the Triple "A" Rating. If you suspect refrigerant leaks in your commercial facility, call us right away.