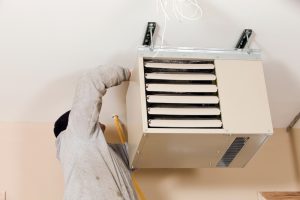 The term radiant heating tends to mean something different in the commercial and industrial sector than it does in the residential. When you hear residential HVAC technicians talk about adding radiant heating to a house, they're usually referring to heating using a boiler, a.k.a. hydronic heating. In hydronic heating, a boiler heats up water and sends it to terminal points such as radiators and baseboard heaters to raise their temperature, which then sends waves of heat into rooms. Other types of radiant heating in homes include electrical elements in the floor or walls that heat up building material and radiate heat indoors.
These methods are used in commercial buildings, but when technicians talk about using a radiant heating system for a commercial or industrial space, they usually mean radiant tube heating. The heat from these is still radiant, i.e. it doesn't heat the air but instead sends infrared waves to heat the people and objects within that space. However, radiant heaters work much differently than hydronic systems, and they have a special use: they're excellent at heating large, open spaces such as warehouses or spaces that are often exposed to the outside cold.
The Radiant Tube Heater
Radiant tube heaters, or sealed-combustion tube heaters, are not central heating systems but designed to heat only the space in which they are located. A radiant tube heater contains a mixture of air and gas inside the tube. An electrode ignites this gas and heats up the surface of a ceramic tile. The tile is responsible for radiating the heat outward.
Why use this particular method of heating rather than central forced-air heating systems? For one thing, radiant heating is highly concentrated and therefore efficient, around 40% more efficient than conventional forced-air systems. They can't provide central heat, but they can save money for space heating needs in warehouses and places that have frequently opened bay doors. The high-intensity radiant tube heaters work extremely well for areas with high ceilings, where heat would otherwise gather at the top of the space. Radiant heating is suited for "dirty" environments where forced air current would move around too many particles. There are ducted radiant heating systems that bring in fresh air for combustion, thus avoiding issues with negative indoor air pressure.
Other Radiant Heating Options
At Advantage Airtech, we're experienced with installing a range of radiant tube heating systems to meet the special needs of our clients. But we also provide other types of radiant heating for smaller spaces. In-floor and in-wall radiant heating systems are also ideal to improve indoor air quality because they won't blow around dust or allergens in a workspace, and they provide even heating that's easier to control and also provides heating quicker than forced-air.
If you need heating for a large space or you're looking for alternatives to many of the common methods for industrial and commercial heating in Toronto, ON, please reach out to us today.
Advantage Airtech Commercial Ltd. is the Double "A" Name with the Triple "A" Rating. Contact us to schedule service in the Greater Toronto Area.