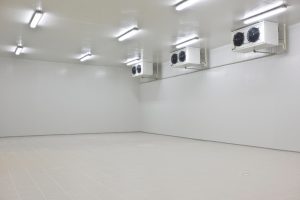 If you're debating installing heating for your industrial warehouse, you're likely facing a few tricky dilemmas and tough questions. Heating a large space with a high roof is often much more expensive than heating conventional commercial spaces like offices and retail stores. Not only is cost a concern, but you're probably unsure how best to distribute heat and what type of heating systems to use. Can conventional rooftop units do the job? Or are there better options when it comes to industrial heaters in Toronto, ON?
Know Your Options From a Professional
Before we go further talking about the best methods for industrial warehouse heating, we must point out there's never a single solution to all heating needs. Every facility is different, and the best way to discover the right industrial heating for your facility is to work with our industrial and commercial HVAC team. We have decades of experience handling the needs of Toronto businesses.
The Unit Heater
Unit heaters are space heating systems that don't use ductwork but are instead installed within the spaces they heat. This is the first major advantage they offer to an industrial warehouse—they're flexible and don't involve having to make major construction changes to the facility to fit in a special ventilation and distribution system.
Unit heaters come in different types, such as indirect fired and electric heaters. Electric heaters cost more to operate than indirect fired heaters, although they cost less to install. Indirect fired heaters and radiant heaters are more cost-effective to run, and radiant heaters are effective for larger spaces and warehouses where there's frequent exposure to the outside because of large open doors.
Warm Air Heating vs. Radiant Heating
A bit more about these two types of heating systems for warehouses. A warm air heating system works the same way standard furnaces do: air is heated inside the system and then blown into the space to raise the temperature. A radiant heating system raises the temperature of an object in the space so waves of heat radiation comes off it and spread through the room to heat up other objects. For example, boilers heating up radiators work this way.
A warm air heating system can have trouble evenly distributing heat to a large space like a warehouse. However, there are different types available and one of them may be ideal for your needs. They're also beneficial if your main concern for heating a warehouse is employee comfort. Radiant heating spreads the heat more evenly and can be used to target specific areas of the space that require higher temperatures. If protecting equipment and process is the main reason you want warehouse heating, radiant heating systems may be the best choice.
We'll Help Your Business Succeed
You can trust our technicians to prioritize the needs of your facility when installing warehouse heating. There are numerous factors involved in proper industrial heating, and our team will balance all of them so you have the exact heating necessary for success.
Advantage Airtech Commercial Ltd. is the Double "A" Name with the Triple "A" service. Call us for commercial heating services in the Greater Toronto Area.