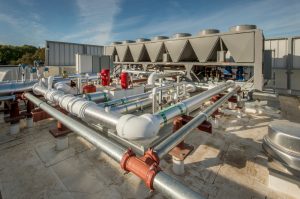 Providing air conditioning for a commercial or industrial facility is much different than air conditioning a residential home. Most houses use the same type of refrigerant-based split systems to provide cooling. There are some variations in design, such as ductless mini splits and packaged units, but they still operate on the exact same principles. 
With commercial and industrial facilities, air conditioning can mean several different jobs with different goals. Rooftop units may handle comfort needs in a way similar to residential air conditioning, but commercial facilities also have cooling requirements for process and for equipment, such as server room cooling. The air conditioning system for a business often encompasses several types of cooling systems—such as the chiller, which we're going to look at closer today. 
The Basics of the Chiller
People outside of the commercial refrigeration industry usually don't know what a chiller is. A good way to start describing them is to compare them to standard HVAC systems. An HVAC system regulates environmental temperatures within a space. A chiller is designed to directly cool down processes and equipment that standard environmental cooling will not have much effect on. A large heat-generating piece of industrial equipment won't cool down enough just because an AC system is moving around cool air! It needs something more powerful to draw off the heat, and that's where the chiller comes in, providing direct process chilling. 
What a chiller does is remove heat from a liquid coolant (often lithium bromide), sub-cooling the liquid and then using it to provide cooling to other equipment. Because chillers must remove a large amount of heat—much more than a standard HVAC system—they often use a cooling tower on the top of the building to exhaust the heat removed from the coolant. The cooling tower functions as a giant heat exchanger and allows chillers to work at high energy efficiency.
We Install and Service Chillers
There are many different types of chillers available, all of which we install: screw-driven, reciprocating, centrifugal, and absorption chillers. We also work with all the major brands: Johnson Control, Trane, Carrier, York, Berg, McQuay, Daikin. If you need to install chillers in Ajax, ON, our expert team can find the right type and power of chiller to meet your needs. We install cooling towers as well, and we're experienced with working on a wide range of commercial and industrial facilities.
We are also the expert team to look to when you need chiller repairs, replacements, and maintenance. Maintenance is an essential service for devices as powerful as chillers and cooling towers. When you sign up for maintenance with us, you'll receive a dedicated account manager who will help outline a full maintenance schedule and plan that's customized to your facility's equipment. Our services will help keep your chillers working at high efficiency, reduce the chance of failures and expensive downtime, and ensure your equipment has a long service life. 
Advantage Airtech Commercial Ltd. is the Double "A" Name with the Triple "A" Rating. Contact us today for all your industrial and commercial cooling requirements in the Greater Toronto Area.