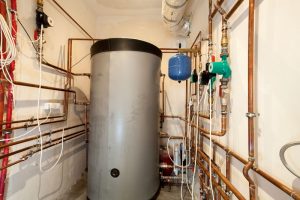 If hot water is a critical part of your commercial or industrial facility, you'll want to make sure that it receives the best care from qualified professionals. Our team is experienced with working with hydronic systems and all types of commercial and industrial water heaters in Whitby, ON and throughout the Greater Toronto Area. We're available to help with repairs and the regular maintenance necessary to see that your commercial/industrial water heaters run effectively, efficiently, and for as many years as possible.
But how long can you expect your industrial water heater to last before repairs are no longer worthwhile and a replacement is the better option? The answer depends on numerous factors, such as your business and the type of water heater you have. We can give you some basic information on what to expect, but you'll be glad to have us there to help you make the choice that will work out best for your business.
Storage Tank Water Heaters
This is the more familiar type of water heater, with the water stored in a large tank where it's heated for immediate use whenever there is demand for it. Because these water heaters undergo more stress from running longer and using more power, they have shorter lifespans than the newer tankless systems. A commercial or industrial tank water heater often lasts around 10 years before they begin to suffer efficiency loss and an increase in repairs.
Tankless Water Heaters
The tankless water heater model is becoming more popular in industrial and commercial use because of its small size and lower consumption of energy. A tankless water heater doesn't store any water and instead heats the water passing through it as it's needed. The reduced wear on the system means that tankless water heaters can last longer than tank water heaters, often to 20 years or more before they start to suffer from a decline in efficiency. 
Warnings of Water Heater Failure
If your water heater is in the upper period of its life cycle, that doesn't automatically mean you need to replace it. But you should be more aware of the signs that it has started to decline. These signs include:
Loud or unusual noises coming from it.

Any indication of rust or corrosion starting on the unit.

Rusty discoloration in hot water in the facility.

Leaking of any kind.

The water heater cycles on and off at unusual times.

A rapid rise in heating costs.
If you have a maintenance agreement with us, we'll make special checks on the water heater at each appointment to see how it's progressing. We'll catch any early signs that the water heater is beginning to fail. We'll perform repairs if we think it will give the system a few more useful years of service, but if we think you'll be better served with a new installation, we'll tell you. You will have a dedicated maintenance team and account manager that knows your specific needs. 
Advantage Airtech Commercial Ltd. is the Double "A" Name with the Triple "A" Rating. Call us for commercial and industrial HVAC service in the Greater Toronto Area.