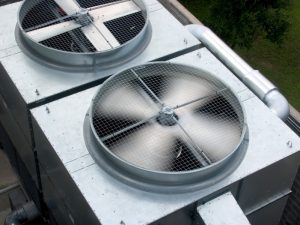 Commercial air conditioning systems consume a great amount of energy. Compared to the standard residential AC systems, a commercial system costs 150% to 200% more to run on average, and that doesn't account for how much longer these systems must run. This extra labor puts commercial air conditioning systems in danger of abrupt malfunctions that can lead to massive energy waste and expensive interruptions in operation, especially if the system doesn't receive regular professional maintenance.
Even with maintenance, you can expect to encounter air conditioning troubles at some point. We're ready to help with the service necessary to get you back to work. To help you identify service needs, we've listed several common repair concerns you may have with your commercial cooling system.
Frozen evaporator coils
Ice should never appear along the evaporator coil. This isn't a sign the AC is working exceptionally well, but that something is causing the coil to absorb less heat than normal. Clogged air filters are often at fault, which is why routine maintenance is so important. Low refrigerant levels are another cause, and we'll talk about these leaks more below as they warrant their own listing. 
Dirty condenser coils
The condenser coils can collect dust and debris from outdoors, and when this occurs, the efficiency of the air conditioning system will decline because the unit cannot effectively exhaust heat to the outdoors.
Thermostat malfunctions
Commercial facilities often have a network of different thermostats to manage zones and deliver separate levels of cooling to specific areas. If one or more thermostats become miscalibrated or lose connection to the HVAC system, it can cause numerous efficiency and performance problems. Fortunately, they are basic fixes for our technicians. 
Refrigerant leaks
Leaks in refrigerant lines often occur in older equipment. These leaks put the AC in jeopardy because the system is designed to work at a specific charge and pressure of refrigerant. Without repairs to seal the leaks and recharge the system, it will eventually suffer a catastrophic breakdown.
Tripped breakers/blown fuses
Has your commercial air conditioning system started to trip circuit breakers or blow fuses? Please don't ignore this and just reset the breakers or replace the fuses. Something is causing the AC to overload its circuits, and you'll want experts to look into it.
Nonstop blower
If you have the thermostat in the "auto" position but the blower fan for the HVAC system won't shut off, you'll need to have professionals see if the blower fan has become stuck or lost its connection to the thermostat. 
Compressor trouble
The compressor is the core of an air conditioning system and draws on the most power to operate. A compressor is in serious trouble if refrigerant levels drop—it will eventually overheat and burn out. Compressors can also become "tight" and drain extra power to start up. Watch for strange sounds from the compressor as well as temperature fluctuations in your facility. These warn of a compressor that needs immediate expert attention.
Call us for commercial air conditioning repair in Pickering, ON.
Advantage Airtech Commercial Ltd. is the Double "A" Name with the Triple "A" Rating. Call us 24/7 for emergency repair service.