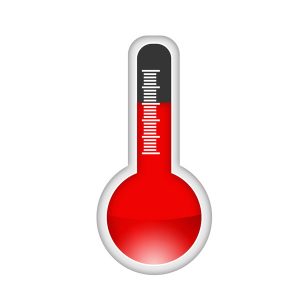 One of the most important commercial HVAC services we offer for our customers is cooling for a relatively small area of a facility. But it's one of the most vital areas: the server room (also computer rooms and IT rooms). Server room cooling in Toronto, ON is a specialized service, and not one you can allow a standard HVAC company to manage for you. These rooms contain precision equipment that's sensitive to temperature and humidity fluctuations and generates its own heat, and all of it is stored in a limited space. 
If you want to ensure you have the best protection for your valuable commercial data and equipment, only hire experienced professionals like ours to set up and maintain your server room cooling system. We'll go over some of the key challenges that server room cooling presents to help you understand why you want expert technicians on the job.
Accurate temperature control
The temperature necessary to prevent overheating in a server room is different from what the rest of a facility requires. The major challenge in this case is the equipment generates its own heat, and in a small area, this creates extreme temperatures that can ruin precision devices. Server rooms usually require temperatures around 68°F, cooler than standard ACs provide for occupied parts of a facility. Because of these specific demands, server room cooling is often unconnected to the rest of the HVAC system and operates independently. 
Proper ventilation
The term server room cooling can mislead, as it's not only about temperature control, but also proper ventilation and humidity control. Space for ventilation is essential, and this creates a challenge for maximizing the space available while creating enough room for air to circulate around the equipment. This allows the equipment to vent heat and have the heat rapidly dissipated with the movement of air. The equipment often must be placed in stacks with enough space for air circulation between the devices to vent heat.
Humidity control
High moisture levels can ruin precision equipment, and if a server room cooling system ignores humidity control, it might as well be useless. High humidity can cause short-circuiting, corrosion along electrical components, and even mold growth. But dry conditions are also a problem because it allows for increased static electrical discharge that can severely damage equipment. Proper server room cooling balances humidity at the ideal level for the equipment stored. 
Movement of equipment
Equipment vibrations can lead to jostling in a server room that can cause damage to the machinery. This jostling can also occur if the equipment is against outside walls where external movement can send vibrations through the walls. Creating an effective server room cooling environment requires considering the effect of internal and external vibrations that can harm the equipment. 
You can trust our technicians to provide you with server room cooling that matches the space and your specific needs. We'll analyze the server room and its contents and find the most reliable cooling and ventilation installation to protect your data.
Advantage Airtech Commercial Ltd. is the Double "A" Name with the Triple "A" Rating. Talk to our experts today if you are looking for solutions to your server room cooling concerns.