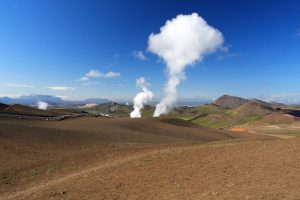 Here we are with a new blog, where we'll share commercial technology and offer ideas for how we can help you improve your company's operation. We're here to assist with comfort and process through our HVAC services for commercial and industrial buildings.
We'd like to start with a look at one of the best options for a business to go "boilerless" and "towerless" when it comes to heating and cooling: the geothermal heat pump, a.k.a. ground-source heat pump. We offer complete commercial geothermal services in Toronto, ON and the surrounding areas.
How Geothermal Heat Pump Systems Operate
If you've been in industrial or commercial building management for some time, you may wonder how a heat pump can operate with a tower. The large structures of towers and boilers seem like inseparable parts of how heating and cooling is delivered around a building, whether to protect equipment, facilitate process, or maintain comfort.
The geothermal heat pump doesn't require interaction with the outside air the way standard heat pumps (air-source heat pumps) and cooling systems do. Instead, they access the steady temperature of the earth approximately 6'–10' below the frost line. No matter how cold or hot the aboveground temperatures may get, the loops of the geothermal system in the ground have stable warm temperatures available. The loops (which are filled with a water-antifreeze mixture) either absorb heat and transport it indoors to a heat exchanger or remove heat from indoors and deposit it in the ground.
The Advantages of Commercial Geothermal Heat Pumps
But why go this route, if the rooftop unit heat pump is more common? Because geothermal heat pumps can operate at a higher level of energy efficiency. Government studies estimate a geothermal heat pump is 3 to 6 times more energy efficient than a standard air-source heat pump. That means tremendous savings for your company over the year—allowing the heat pump installation to rapidly pay for itself. Plus, you'll have many years to enjoy these benefits, since geothermal systems have a 25-year (or longer) warranty and the loops can endure for more than 50 years.
It's Easier to Install than You May Think!
There are different loop configurations to allow businesses with only a small amount of space available to enjoy geothermal heating and cooling. Vertical loops can be sent straight down into holes bored to an average of 250 feet. If your business is near a natural body of water, you can use an open loop system. If there's space available, shallow trench horizontal loops are a less expensive route. You can put them under your parking lot! When you work with our professionals, you'll end up with the right ground-source heat pump to meet the various cooling and heating needs of your business while also keeping within your budget.
We have more than 30 years of experience as a company, and it's our goal to deliver 100% satisfaction on each and every job. You can contact one of our Account Managers to receive a free quote on a customized maintenance program. Or you can discuss options for a new geothermal system or repair and servicing.
Advantage Airtech Commercial Ltd.—Serving the Greater Toronto Area.