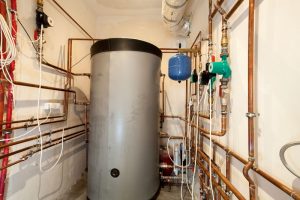 A commercial boiler can serve a range of functions inside a commercial facility, providing heating to spaces for comfort or for process and protection of other equipment. Boilers are often the best and most cost-effective alternative to standard forced-air heating systems.
If you use a commercial boiler or boilers for your building, it needs the same level of routine professional repair as any other HVAC system, although in general the maintenance needs are less intense. Our technicians offer extensive commercial boiler service in Toronto, ON and can help you whenever you need immediate repair service. We are standing by 24 hours a day, 7 days a week.
Here are major boiler troubles to watch for:
Anything related to lack of maintenance: This is a catch-all category, but we want to emphasize how essential regular professional maintenance is for commercial equipment. If a boiler goes for more than a year without a licensed technician inspecting it and providing a tune-up, the boiler can begin to rapidly deteriorate and fail early. Maintenance is an investment against having to pay for an expensive new commercial boiler.
Air trapped in the system: A boiler is designed to have no air inside it to prevent corrosion. The presence of air in the boiler (which can occur because of leaks) often creates whistling, knocking, or gurgling sounds. You want to have these noises investigated as soon as possible, since air inside the boiler will soon trigger corrosion—and that often requires an early system replacement if it spreads.
Pressure changes: Many commercial boilers use steam because of its high heat levels. Any drop or rise in steam pressure affects performance. There may be problems with traps or valves, and of course, leaks. Watch drop drops in heating levels as warnings you may have boiler pressure issues.
Leaks: We've already mentioned leaks as sources of other troubles—and they can cause many of them. The moment anyone notices water leaks from parts of the boiler system, call for emergency repairs.
Blockages: The most common source of blockage inside a boiler system comes from the build-up of scale or sediment. This not only stops water/steam movement to terminal points, it also increases pressure and lowers system inefficiency as it affects heat transfer.
Temperature control failures: The thermostats that control the boiler systems can malfunction, causing the system to turn on and off at incorrect times or place the water/steam at the wrong temperature. We often recommend our customers update to more extensive building automation systems that better control boilers and can rapidly send alerts when there are problems.
Along with turning to us for commercial boiler repairs, we offer top-quality maintenance programs to care for your boiler and the rest of your facility's cooling and heating equipment. We customize our programs for our clients and assign a dedicated account manager to directly handle your requirements. You'll always have service from people who understand your equipment and the needs of your facility.
Advantage Airtech Commercial Ltd. is the Double "A" name with the Triple "A" service in the Greater Toronto Area. Reach out to us for your commercial heating needs.