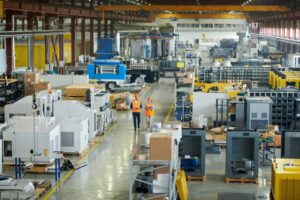 Although the summer weather is still a few months away, planning for a commercial facility needs to start far in advance. You don't want your commercial business to be caught without adequate cooling and ventilation when the Toronto heat and humidity strikes.
Advantage Airtech Commercial handles all types of issues with industrial and commercial indoor air quality in Ajax, ON and throughout the Greater Toronto area. The greatest concern most of our customers have during summer is maintaining proper indoor cooling, but we want our customers to understand the major challenges to indoor air quality that can affect their facilities. Here are the top IAQ problems that local commercial and industrial facilities face during the hottest months.
High Humidity
Toronto's humidity can be brutal. By August, the average daily relative humidity is 70%, much higher than the 45% zone that most people find comfortable. High humidity is not only an issue for comfort, especially in a commercial or industrial facility: high moisture levels can damage equipment, encourage rapid corrosion that shortens equipment lifespan, and promote mold and mildew growth. Better ventilation can improve this, but some facilities may require more powerful humidification installations. (Standard ACs will not help with humidity.)
Poor Ventilation
Unfortunately, it's easy for facility managers to overlook the "V" in HVAC when they're so focused on the "AC" during summer. Many buildings have strong insulation against the outdoor heat to allow for better energy efficiency in summer, but this creates the issue of stale indoor air filled with contaminants from internal sources. The most prominent contaminants in many commercial facilities are volatile organic compounds (VOCs), which come from many different products and processes. Air balancing, maintenance, upgrades, and repairs to the ventilation system can solve most ventilation issues.
Influx of Exterior Pollution
In a large city like Toronto, there's always the concern about outdoor pollution entering the building. In general, most IAQ issues are from inside sources, but commercial facilities must take into account outside pollution entering through the ventilation system—particularly if the facility is near a highway or dense urban area. This requires careful balancing with ventilation as well as specialized filters and air purifiers.
Chemicals
For manufacturing plants and other commercial facilities that work with chemicals, chemical residue in the air constitutes a significant health hazard. During summer, the reduced levels of ventilation for many buildings can lead to a dangerous build-up. Depending on the type of facility you operate, you will need to have customized solutions (such as power vents) to quickly remove chemicals from the building and provide a return influx of fresh air to avoid negative air pressure.
Allergens
This isn't specific to commercial facilities, but it's nonetheless a major issue. Your commercial workspace will almost certainly have people inside with asthma or sensitive allergies. Allergens spike in warm weather, and often the best defense against this is specialized filtration systems and purifiers.
Advantage Airtech Commercial Ltd. is the Double "A" Name with the Triple "A" Rating. Reach out to us today to help prepare your commercial or industrial facility to handle the indoor air quality problems of the coming summer.