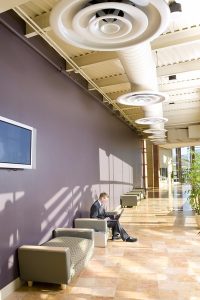 It wasn't long ago that the concept of a computer automated home or business was reserved for science-fiction stories and special displays at futurist exhibits. However, the technology for building automation has not only arrived, but it continues to improve, allowing for advancements in everything from energy management to basic comfort, convenience, and efficiency throughout a building. Let's look at some of the ways building automation can make a difference to a commercial/industrial building.
Seize Control of Your Business…
Building automation isn't only "automatic." You have control over the way the system manages the building, putting you in control of handling the HVAC systems, security systems, door locks, humidity levels, and more. You can act immediately when the system notifies you of issues, and you can plan operations better. You'll be in the driver's seat of your facility in a way that wasn't possible before.
…without Adding Extra Work
However, keep in mind the "automation" part of building automation. You can make changes and react to issues, and when you work with the best professionals you'll have a system customized to your specific needs. But you still can leave most of the work to the computers, which provide precision that was previously impossible. As long as you have the building automation system regularly inspected and checked by the professionals who originally installed it, you can relax and know that 99% of the work of streamlining operations and energy efficiency is being taken care of.
Save Money in Ways You Didn't Know About
A great building automation system locates places where your facility is expending excess energy for better energy management. One of the goals of building automation is maximizing power consumption. The automated system improves equipment schedules for the most effective use of power, shutting down equipment and then starting it again based on measuring variations such as the weather. Lockouts in the system will see that equipment (for example, an industrial chiller and its pumps) won't turn on when the external temperature falls or rises past a certain point or when the internal temperature reaches cooling/heating requirements.
Diagnostics
Building automation provides you with additional tools for understanding the energy demands of your facility. You can use the data from the system to assist with troubleshooting and locating the causes of problems far quicker than you would without. A facility without building automation (or a poorly designed and installed one) has few monitored points, allowing troubles to slip past without notice. An excellent building automation system gives you a heads-up on problem-solving.
Building Automation from Experts in Customization
You don't want just any contractor to handle your building automation in Toronto, ON for your commercial or industrial building or facility. We will put 30 years of experience with building automation systems and their evolving technology to work for you so you end up with the best possible energy management for your company. It's our goal to see the system installed for your facility is ideally customized, and you'll have an account manager to work with you every step of the way—and that includes future maintenance and assistance.
Advantage Airtech Commercial Ltd. has served the Greater Toronto Area since 1987.