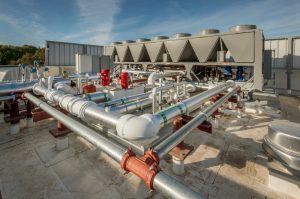 What is the best thing you can have done for your commercial air conditioning in Toronto, ON, regardless of how you use cooling in your facility? It's to schedule routine professional maintenance for it. How often you'll need this job done will depend on your facility and equipment, but almost all commercial HVAC contractors recommend spring maintenance to prepare the equipment for the rigors of summer. 
If you want to have your spring maintenance done by the right people, and you want to develop a plan for future maintenance, then Advantage Airtech is the contractor in the Greater Toronto Area to talk to. We offer much more than the standard maintenance service that many other contractors provide.
The Account Manager
Having maintenance done through an average HVAC contractor means calling them when it's time for the next inspection and tune-up, talking to whomever picks up the phone, and then having the next available technician sent to your facility. When you work with us, it's much different. We'll assign you a dedicated account manager who will be your point person for all future maintenance needs. The manager will get to know your facility, its equipment, and its requirements, and the technicians sent to you will also be familiar with your specific needs. 
Customized Maintenance
A checklist will not get the job done when it comes to commercial air conditioning maintenance. This may be acceptable for residential systems, which have much in common, but it won't work with the complexities of commercial systems. Your account manager will develop a customized maintenance program with you that is tailored to your facility. The manager will also create a schedule that lays out both your air conditioning and heating maintenance, as well as other important equipment. 
Peak Performance and Longevity
The initial goal of commercial HVAC maintenance is to ensure that the systems run at their best and with little chance of creating expensive downtime from failure. The majority of repairs any AC equipment may need can be prevented or caught early thanks to our maintenance efforts. Our services will also help your equipment last for many years longer and give you the best return on your original investment. 
Energy Management
We aren't just in the business of maintaining HVAC equipment: we work with energy management. Since an enormous amount of the energy consumed in your facility goes to the HVAC equipment, proper maintenance is critical for protecting costs. We don't simply ensure that your equipment is working at high energy efficiency—we look for places to make upgrades, retrofits, and replacements and to better integrate various systems. We can install building automation systems. We'll even assist you with applying for various energy rebates and energy incentives for which you may be eligible. 
It's simple to get started with the best commercial maintenance and energy management: simply call us and ask about maintenance, and we'll connect you to an account manager.  
Advantage Airtech Commercial Ltd. is the Double "A" Name with the Triple "A" rating serving the Greater Toronto Area. Call today to speak to an account manager regarding maintenance.