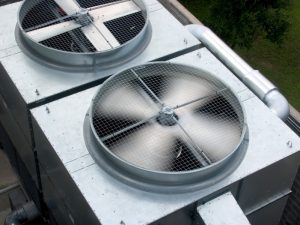 Running a business of any kind involves making numerous decisions both large and small on a daily basis. Making a choice to upgrade or replace a large part of a facility's air conditioning system definitely falls in the "large" category: most commercial facilities need cooling of some type in order for them to operate. Cooling can be necessary to protect equipment (such as in vital server room cooling), facilitate process, and provide comfort to employees, clients, tenants, etc. Failure of the air conditioning equipment or ineffective/inefficient performance will have a major negative impact on running your business.
Of course, taking the step to make major changes to older, out-of-date cooling equipment can be expensive, and you may be reluctant to make the change immediately. If you are on the fence about a new commercial air conditioning installation in Toronto, ON, the best step to take is to work with our commercial HVAC professionals. We have more than 30 years of experience assisting local businesses, both commercial and industrial, with proper heating and cooling. From server room cooling to industrial chillers, we can handle all cooling requirements and give you the information you need to make the right choices about your air conditioning equipment.
What Type of Cooling Equipment Does Your Business Need?
People tend to think of personal comfort when they hear the term "air conditioning." This is indeed an important part of air conditioning for many businesses, such as retail spaces and office spaces. If you run one of these establishments, you'll know how vital it is for the people in the space to feel comfortable during hot days.
But consider also the year-round cooling power you need to protect equipment and process in your building. This is something that can be overlooked. Computer rooms and server rooms have specific requirements, and even a slight malfunction with their cooling equipment can translate into data loss. Large equipment may require dedicated cooling systems, such as chillers. If it's been a few years since you've updated this part of your cooling system, we recommend speaking to us about it.
If you're already feeling a bit confused about the type of AC necessary for your business in the near future, don't worry. HVAC systems are complex, and that's why you only want the most experienced commercial technicians on the job to recommend and install new equipment. Most important is the customization of the equipment, which is something that we take seriously at Advantage Airtech. When you come to us with questions about updating the AC in your business, we'll take a close look at the facility's needs to come up with a specific plan for new installations. This way you won't need to spend money on anything you don't need, and the new air conditioning system will maximize your energy savings. We'll make the installation fit with your budget. Best of all, we are dedicated to giving honest advice, placing the needs of your business first.
Find the commercial HVAC service you need in the Greater Toronto Area with Advantage Airtech Commercial Ltd.—The Double-A Name with the Triple-A Service!