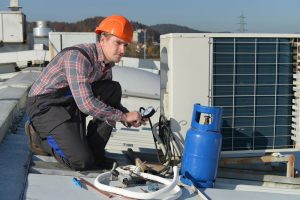 If you are looking for an AC maintenance plan for your business in Toronto, ON, first of all: smart idea. No matter what type of commercial facility you own or operate in the Greater Toronto Area, having HVAC professionals regularly maintain your heating, cooling, and ventilation equipment is essential for receiving the best steady work from it. Routine commercial HVAC maintenance helps keep utility bills under control, avoids breakdown surprises that can bring work to a halt, extends the life of vital equipment, and reduces the number of repairs any system may need over its service life.
You have numerous options when it comes to commercial maintenance contractors. If you've come to our website, it's likely because you are shopping around to find the best possible HVAC maintenance service. Also a smart idea—because you've found us! Our AC maintenance plans are different from what you'll find at most commercial and industrial HVAC contractors. It's not only that we're an experienced company with more than 30 years of history in the area. Our maintenance is maintenance with a difference!
The Customized Approach to Maintenance
Here's the dirty secret of many "maintenance" programs: they're really only a basic checklist a technician runs down without going deeper into the specifics of the facility. Much of the time, the technician sent to handle the service is whoever was next on the queue or who had time available. The tech may have never seen the facility before or worked with the facility manager/owner.
What we offer is the opposite of this: maintenance that is exactly customized for your facility's equipment (no checklist) and handled by a dedicated account manager (no more "spin the wheel" to see who comes out for the service).
"One-size-fits-all" makes no sense when it comes to business equipment maintenance, because all businesses and facilities are different. When you sign up for one of our maintenance programs, your account manager will work with you to find out the exact requirements of your facility and its heating, cooling, and ventilation system. Out of this, the manager will develop the customized program that meets your needs. When it's time for maintenance, we'll only send technicians to you who know your facility and the customized service program.
Comprehensive Maintenance
Our HVAC maintenance programs are truly comprehensive. Thanks to the work of your account manager, we'll know exactly what systems need our attention. There is no skimming, no cut corners: the equipment you need to work right and work at its best will receive the inspections, cleanings, and tune-ups to ensure it operates as it should. If our technicians spot problems, they'll alert you. At the end of each maintenance visit, your technicians will run down a list of their findings as well as any suggestions they may have for further service.
If you are interested in a free quote on one of our maintenance plans, call our office. We pride ourselves on the quality of our customer service, and we're eager to get you started with the routine maintenance that will help your business continue to succeed.
Sign up for a commercial maintenance plan with the Double-A name company with the Triple-A service: Advantage Airtech Commercial Ltd.