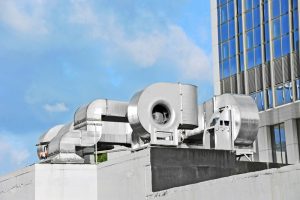 The summer weather from June to September in Toronto can sometimes rise to 35°C, and you don't want to be a business of any kind stuck without an effective air conditioning system at those times. But proper cooling is important for many facilities around the year: it's not only an issue of comfort for employees, clients, tenants, etc. but for process and to protect equipment. When you work with our commercial and industrial HVAC professionals, you'll receive the right type of cooling for your building or facility. We understand the importance of customizing HVAC systems to meet all the specific needs of any of our clients.
Here are some of the ways we can help your facility's air conditioning. Not all of these may be right for your business, but you can trust that we'll pinpoint exactly what you need.
Improved building controls
One of the best places to start with better AC isn't with the actual cooling system but with the cooling system controls. We're long past the days of standard "thermostats." Thanks to better building automation systems, our professionals can make your facility's HVAC system operate in perfect synch with changing needs. This improves air conditioning while preventing energy waste, and it tailors the facility to a diverse range of customers, workers, and tasks.
Duct sealing and repair
One of the major trouble spots for AC systems in commercial buildings is in the ductwork. It's often overlooked—although not by HVAC professionals! Loss of cooled air through leaks in the ducts can contribute to a drop in air pressure, increased energy costs, a rise in humidity, and general poor cooling distribution. Let our technicians test your ventilation system and see if we can make major improvements to it.
AC system upgrades
How old is your facility? Was the cooling system already installed when your business moved in? You may have an aging air conditioner that isn't up to the task of proper climate control. We can help upgrade your system—sometimes putting in a new one entirely—with as little disruption to your workflow as possible.
Air conditioning maintenance program
This is one way we can help that applies to all businesses. No matter your facility, it must have regular maintenance inspections and adjustments made to its air conditioning system during the year. When you work with us, we'll assign an account manager to you: a professional dedicated to ensuring your specific HVAC needs are met. We won't send over a random technician with a checklist who quickly glances over the equipment and then goes on their way. Your account manager will see that only people familiar with your facility and its cooling necessities handles the regular care the HVAC system must have to keep working and prevent energy waste.
When you're looking for commercial HVAC contractors in Markham, ON or elsewhere in the Greater Toronto Area, make an appointment with us. Our customers become customers for life thanks to the personalized and customized service we deliver. We're the Double-A name with the Triple-A service!
Advantage Airtech Commercial Ltd. has served the Greater Toronto Area with industrial and commercial HVAC for more than 30 years.