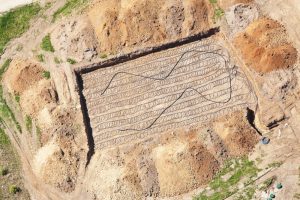 Among the many types of commercial HVAC in Toronto, ON we work with, geothermal is one that we receive many questions about. Although geothermal technology isn't new to commercial use, it has expanded over the last few decades as facility owners and managers have become more conscious of the benefits of responsible use of natural resources. A building can "go green" while also saving money. Commercial geothermal systems offer several excellent solutions for different businesses, and they can be used in conjunction with other HVAC systems—they don't have to be "all or nothing."
Below we'll answer a few common questions people have about geothermal heating and cooling.
How much space do the loops take up?
The basic operation of a geothermal heat pump is heat exchanger through buried loops that circulate a water-antifreeze mixture. The loops either absorb or deposit heat in the ground, rather than using the outside air like a standard heat pump. But how much space does a facility need for those loops?
This, of course, varies from business to business. But what we want to clarify here is that you have more options for condensing the space for loops than you may realize. Loops come in different configurations. Horizontal loops are the best known: laid out in shallow trenches. If a business has the space available (such as under a parking lot), horizontal is the cost-effective option. But vertical loops, which are placed into holes drilled more than 75 meters down, reduce the space needed—and work extremely well in Toronto temperatures.
What can I expect to save with a geothermal system?
Again, "it depends." This is where our experts can provide you with valuable insights into how you can best use geothermal energy for your facility and if making conversions from natural gas, electricity, and oil is worth it. The savings can be from 20% to 60% off utility costs. But the system must be accurately sized and professionally installed, as well as the right match for your facility, or it may end up costing you more. Yes, you may save—but you need the best people to assist you.
What are the maintenance requirements for geothermal systems?
We have a more straightforward answer here: not much. This is one of the major advantages of geothermal HVAC. The systems can last for decades without major problems and only simple maintenance. The internal heat pump component requires regular maintenance visits on the same schedule as an air-source heat pump since the two aren't much different. But the underground loop system needs almost no maintenance. They can last for 50+ years. We'll assign you an account manager who can explain what's necessary to keep the geothermal system in peak condition.
What are these "open loop" systems I've heard about?
An "open loop" geothermal system pumps water from a nearby well or body of water to use for heat exchange, rather than circulating the same antifreeze-water mixture. Open loops are not suitable for many facilities and are uncommon in Toronto because of the cold winters.
Advantage Airtech Commercial Ltd. is the Double "A" Name with the Triple "A" rating. Call today for more information about geothermal HVAC for your commercial facility.