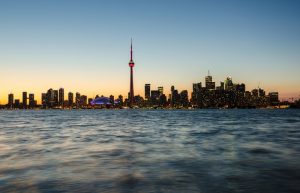 We're one of the top contractors who handles commercial HVAC in Toronto, ON. There is no limit to the size of the services we offer. We can handle the needs for a small office or for a large industrial facility. We cover all aspects of HVAC, from basic comfort and air distribution to environmental controls and automation that ensure the continued success of a facility. You can count on our technicians to handle any service or appliance necessary.
One area where we excel in meeting the major challenges of proper heating, cooling, and ventilation for high-rise structures. Although people take high-rise buildings and skyscrapers for granted as a part of the commercial landscape of Toronto, they are difficult structures when it comes to HVAC and pose major challenges.
Challenge 1: High-Rises Are Taller
Yes, it's right there in the title: a high-rise building is higher than other buildings. This creates several dilemmas that buildings of only a few stories don't have to worry about. One is that the temperature outside the building changes the higher up the building. A building of 60 or more stories will have much colder air around the top floors—so the heating and cooling requirements for these upper floors must be different as well. Treating the whole building as a single zone would create extreme temperature differences. And because heat rises, tall buildings have different concerns about overheating upper areas.
Challenge 2: Energy Requirements
A large facility needs to have more energy put into its HVAC system. That's common sense. But a high-rise offers even steeper energy requirements than a facility with fewer stories but similar square footage. The main reason for this is the power of the blowers necessary to send conditioned air through the floors. A high-rise needs multiple, more powerful blowers to be able to keep a constant circulation of air through the building.
Challenge 3: Space requirements
A big city like Toronto has limited space available in its downtown area and in other concentrations of commercial activity. High-rises are constructed to make the best use of space with a small footprint, and nobody wants to sacrifice too much of that space to a massive HVAC system. It can be difficult balancing out needs for high ceiling and sufficient work/living space with the hefty requirements of ductwork and machinery for an effective HVAC system.
We Have the Solutions for Your High-Rise HVAC Needs
Challenges exist to be overcome. Not every contractor serving the Greater Toronto Area can overcome the challenges of HVAC for high-rises, but we specialize in these endeavors. We use the best in advanced technology and the different methods for providing climate and environment control for local high-rises. We can use central water-cooled systems such as cooling towers and boilers, and we also use the popular "four-pipe" system for superior high-rise heating and cooling. Schedule an appointment today with one of our account managers to find out what we can do for your high-rise facility.
Advantage Airtech Commercial Ltd. is the Double "A" Name with the Triple "A" service. Schedule the finest commercial HVAC service with our experts.