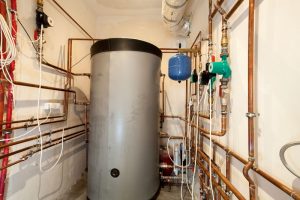 A commercial facility requires specialized heating and cooling system configurations and layouts. There are several options, such as a water-source heat pump or packaged rooftop units with variable-air-volume (VAV) boxes to modulate heating and cooling needs. The different configurations have benefits and drawbacks, and it's always best to leave the decision-making for the ideal HVAC system for your facility to seasoned professionals.
We're going to examine one of the most common types of commercial HVAC systems: the chiller with a cooling tower and boiler.
How a Chiller With a Cooling Tower + Boiler Works
The term chiller refers to a device that uses water as its medium to either remove heat from an area or to deliver it. This makes it different from standard air-source systems like heat pumps and refrigerant-based air conditioners. The water in a chiller moves through different air handlers to transfer or remove heat to the air which is distributed through the various zones of the facility.
The job of the cooling tower on the top of the building when in cooling mode is to exhaust outdoors the heat the chiller draws from water circulating through the building. The main water circuit links to a secondary water loop that then connects to the tower. When the system changes over to heating mode, the circulating water moves through a boiler rather than through the cooling tower. This boiler—which can run off gas, electricity or oil, heats the water so it can then transfer that heat through the different air handlers to the airflow through the zones.
Depending on the type of chiller system, it may be required to operate in only one mode at a time. There are variants where separate water circuits for heating and cooling mode (a four-pipe system) permits the chiller to heat certain zones and cool others. A four-pipe system is more expensive than a standard two-pipe system, but for larger facilities with zones requiring constant heating/cooling no matter the season, it's a worthwhile investment.
Advantages of Chillers with Cooling Towers and Boilers
Chillers with cooling towers and boilers are usually more efficient than rooftop packaged units, and most come with variable speed compressors to maximize energy use during cooling mode. They are also excellent for the weather in Toronto because they operate efficiently during extreme cold. Where a rooftop unit must extract heat from outdoors while in heating mode, a chiller switches its operation from using the cooling tower to relying on a boiler. It's far more efficient the draw heat from a hydronic boiler than to extract it from below-freezing air.
Reach Out to the Experienced Commercial HVAC Pros
If you are looking for the best service to install commercial heating in Toronto, ON, you can depend on Advantage Airtech. We have more than 30 years of history serving the Greater Toronto Area with the finest HVAC for commercial and industrial facilities.
Advantage Airtech Commercial Ltd. is the Double "A" Name with the Triple "A" service. Schedule an appointment today and see why our customers stay with us for life.