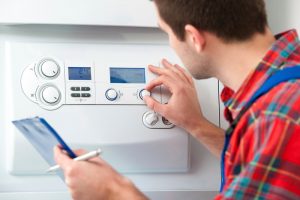 We're a top commercial HVAC contractor in Toronto, ON with more than 30 years of experience working with commercial and industrial facilities in the Greater Toronto Area. We understand the many challenges of proper heating in facilities during the extreme winter conditions, and have met a variety of these challenges during our time in the business.
When it comes to heating commercial/industrial spaces, one of the most difficult is heating a warehouse. Not only do warehouses have a range of climate needs based on what's stored in them, but their immense open spaces, high ceilings, and doors and windows that are often open make them tricky to heat properly without energy waste.
Here are some of the more difficult aspects of warehouse heating we confront when we work with our clients:
Maintaining consistent warmth levels
Regulating warmth is vital for any building during winter, no matter if it's for comfort, process, or equipment. But a warehouse presents significant obstacles: the heating systems must produce enough thermal energy to reach through the large space without overheating. There are several solutions to this issue, such as specialized zoning, unit heaters, and radiant heating. This is also a place where using a building automation system to monitor airflow is especially helpful.
Moving heat between racks and shelves
Warehouses often contain tall canyons of racks and shelves reaching toward the ceiling—and these can create their own patterns of heat movement. A goal with these types of warehouses is proper movement of heat around the racks. Our technicians are skilled at understanding how best to place fans to create the necessary circulation.
Heat rising to the ceiling
All tall spaces have this major heating challenge, which is that heat rises and gathers at the ceiling. Managing even heat distribution and pushing heat down lower where much of the work is done can present a puzzling problem. For our technicians, each facility requires us to find the approach to destratify the air. One of the solutions we often use are radiant tube heaters, which can save up to 50% on energy costs compared to using forced-air heating for a warehouse. We can also install in-floor heating, which creates radiant heat from the bottom of the building and helps to create a more even heat layering.
Heat escaping through open doors
Everyone knows they must keep the doors to the house closed in winter to prevent heat from escaping. With a warehouse, a facility doesn't have much choice but to have its doors open to the exterior for long stretches during loading and unloading and other activities. This is another problem that we often find we can overcome using radiant tube heaters.
No matter what type of warehouse or other large open space you operate as part of your business, you can put your full trust in our team to work closely with you and find the customized HVAC system to meet your needs.
Advantage Airtech Commercial Ltd. is the Double "A" name with the Triple "A" rating. Request an estimate with us today.