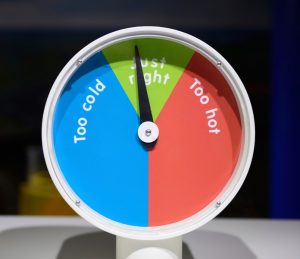 One of the many areas of commercial HVAC that we specialize in is the installation and management of building automation systems (BAS). These systems are a way to improve upon the energy management programs that already offer numerous benefits to commercial and industrial buildings. If you are a restauranteur, a standard energy management program will pinpoint where our team can upgrade and retrofit your equipment and put in place superior building controls. When you work with us, we'll assign you a dedicated account manager so the new program is tailor fit for your needs.
We strongly recommend making installation of a building automation system part of your restaurant's energy upgrade. BAS has benefited many restaurants by making the switch to a "smart" establishment.
ONE: Get rid of temperature imbalances for patrons and employees
Restaurants are notoriously tricky when it comes to creating an even balance of temperatures. With wide open spaces, large crowds, and heat from the kitchen, standard building controls often end up creating hot and cold regions. If you're hearing complaints from staff and patrons about the temperatures, putting in a BAS can make an enormous difference. The automation is proactive and predictive—it doesn't wait for an imbalance to start; it anticipates imbalances and does the work of balancing temperatures before people in the establishment are affected.
TWO: Take away one more complex hassle for you and the staff
Running a restaurant is tough work—so why burden yourself with trying to figure out standard climate control systems that are often incredibly complex? Why spend extra time training managers and employees how to work the controls? You'll still end up with subpar results compared to a BAS, which does the job, well, automatically. These systems take one more chore off your busy schedule.
THREE: Track conditions in establishments
A good building automation system doesn't just control temperature, humidity, and ventilation in a building. It provides reports to owners and managers about these conditions. This is the information the BAS uses to create predictive models, but it's information that can be used to help with further upgrades to improve equipment.
FOUR: Energy savings and longer equipment life
An energy management program aims to achieve these two goals, but with a BAS it becomes more effective. BAS aims for a combination of ideal conditions inside a restaurant and reducing energy consumption. Not only does a BAS help new high-efficiency equipment perform at the level it's supposed to so the establishment realizes the best energy savings, a BAS also lowers equipment strain so rooftop units and other parts of the HVAC system don't rack up costly early repairs.
We want to show you the difference that professionally installed building automation for restaurants in Toronto, ON can make. We have more than 30 years of history helping commercial venues of all kinds, from small convenience stores to massive open shopping facilities, improve conditions and energy use. We have worked with many restaurants in the area, and you can trust that we'll find the ideal energy management program and building automation to match your needs.
Advantage Airtech Commercial Ltd. is the Double "A" name with the Triple "A" service. Make an appointment in the Greater Toronto Area with us.