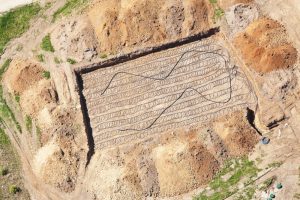 Boilers and cooling towers are expected for many commercial and industrial buildings. But they aren't the only ways to provide proper environmental controls throughout the year. Commercial geothermal systems are types of powerful heat pumps that rely on the thermal energy drawn from the ground to deliver comfort to a facility or business. The heat pump either draws thermal energy from the ground to provide heat, or it changes direction to use the ground as a heat sink where it can deposit thermal energy removed from the building.
The secret of the process—that is, the reason it offers such reliable indoor temperatures while costing less to run than many other industrial/commercial HVAC systems—is that the geothermal loops access a relatively stable temperature in the earth. No matter the weather conditions above ground, the temperature in the earth below the frost line remains stable, around 10°C, which is more than enough to work for both heating and cooling requirements.
You Cannot Ignore the Maintenance Needs of a Commercial Geothermal System
Two of the big advantages of a commercial geothermal heating and cooling system are also something like disadvantages: it works with little noise and most of the components are out of the way, underground. This make it easy to simply take the system and its operation for granted. But any type of heat pump system, whether working from the air or the ground, must have regular maintenance, usually twice a year, to keep it operating at peak efficiency and without running into malfunctions.
It's important to keep in mind that although a geothermal system draws and deposits heat in a different way than a standard heat pump, it still uses a similar air handler and blower system to distribute conditioned air. The powerful blower motors of the indoor components must have regular attention to keep them cleaned, lubricated, and tuned-up. The ventilation system must also have routine check-ups to ensure full efficiency.
The ground loops a geothermal system uses to extract and deposit heat from the earth also need regular attention. The loops may need a chemical flush at times to keep them clean. It's also important to make regular inspections to ensure there aren't any leaks of these antifreeze mixtures from the loops. You can expect to get around 50 years of use from the geothermal loops—provided they receive regular maintenance.
We Provide Comprehensive Maintenance Plans
We go farther than other commercial/industrial HVAC contractors in the area when it comes to maintenance. When you work with us, we'll put together a maintenance plan for your geothermal system that is 100% customized to it and your needs. You'll be assigned an account manager to work with you for developing the maintenance schedule and what needs to be done. If your facility works with other heating and cooling systems in addition to the geothermal one, we will factor them into the maintenance plan so that we cover everything each time.
For all your needs for industrial and commercial HVAC in Toronto, ON and the surrounding areas, you can trust to our 30 years of experience.
Advantage Airtech Commercial Ltd. serves the Greater Toronto Area with complete commercial and industrial HVAC services.