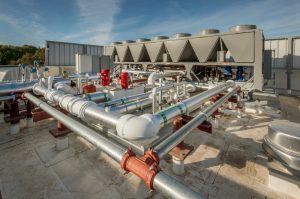 If you have heard about tankless water heaters, you've probably heard about them being used for homes. A tankless water heater is an excellent choice for providing hot water to a household because it saves money and probably won't be overwhelmed by use, which means it won't run out of hot water. The system will always heat up more water on demand.
But are tankless water heaters viable options for the scale of an industrial facility? Many facility owners and operators might think it's unlikely that a tankless system will work as a replacement or alternative to a standard tank system, much like a hydronic system or boiler. However, industrial tankless water heaters can be effective and energy efficient for industrial buildings as well. If the right units are professionally installed and matched to the building and its requirements, they offer a number of great benefits. Here are some of them:
Tankless systems are space-saving
This is an advantage of tankless water heaters that usually isn't too important for homes—but can be critical for a commercial building that requires large volumes of hot water to operate. Tankless systems take up much less square footage than conventional storage tank systems. Storage water heaters require a great amount of space to keep heated water ready for use, while a tankless system doesn't store any water at all: the water is heated as it moves through the unit whenever there is a request for hot water at some point in the facility. You can maximize space in your facility with tankless systems, which is especially helpful for designing a new location.
Tankless systems are safer
Worker injuries can be extremely expensive for a company, as can safety fines, not to mention the loss of productivity that comes with injuries. A tankless model doesn't present potential hazards such as scalding, burns, and ruptures. Tankless systems are safer than storage systems, making for a safer facility overall.
Tankless systems use less energy
Because a tankless water heater only turns on when there is a demand for water (which is why they are often called "on-demand" water heaters), they use less energy than conventional systems. This can mean immense savings over time depending on how much hot water your facility uses.
Tankless systems have longer service lives and fewer repairs
Here are two ways that tankless systems save money for a company. Without a larger storage tank that's almost continually heated, a tankless system will suffer from fewer breakdowns and will have a longer service life. Tankless systems also require less intense maintenance.
When you need service for industrial water heaters in Port Perry, ON, whether installation, replacement, repair, or maintenance, you can depend on us. We work with different types of industrial water heaters, including tankless models. Contact us to speak to one of our specialists and arrange for an appointment to learn about your best options for providing hot water to your industrial facility.
Advantage Airtech Commercial Ltd. serves the Greater Toronto Area. We've been in business since 1987 and offer 24/7 service.